Steve Sanger '68 Offers Question to Fed Chairman Ben Bernanke
September 8, 2011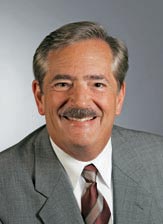 September 12, 2011, Greencastle, Ind. — The final question presented to Federal Reserve Chairman Ben Bernanke at the conclusion of his Minneapolis speech today came from Steve Sanger, the retired CEO of General Mills and 1968 graduate of DePauw University. Sanger's submitted query asked Bernanke, "How would you rate actor Paul Giamatti's portrayal of you and, for that matter, the portrayal of other principals in the recent movie Too Big to Fail?"
The fed chairman's response, which elicited laughter from the audience, was simple: "I didn't see that movie; I saw the original."
The exchange is noted by the Wall Street Journal's Mark Gongloff.
Stephen W. Sanger received an honorary doctoral degree from DePauw in 2004 and in 2009 was presented with the Woodrow Wilson Award for Public Service.
In a 2002 speech, Sanger declared,

[DOWNLOAD VIDEO: "Profound, Remarkable & Positive" 662KB] "When I think back about what my life has been since then, it's just remarkable to me how many of the things that had a profound, lasting effect on my life, in a positive way, all started during that four-year period when I was at DePauw."
Back