Tigers Win Third Straight; Trainor Scores Hat Trick
September 13, 2011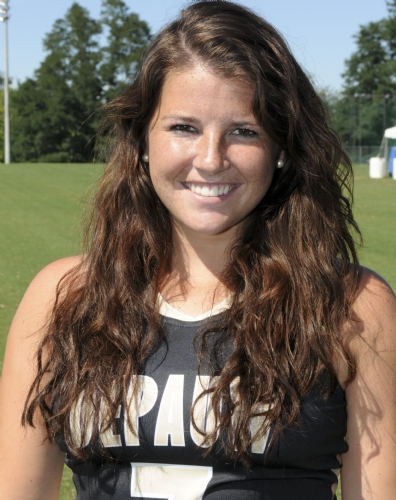 September 13, 2011, Richmond, Ind. — DePauw scored five goals in the first 11 minutes and extended its win streak to three with a 6-1 win at Earlham.
The Tigers also improved to 2-0 in the North Coast Athletic Conference. Earlham is 1-3 overall and 0-2 in the NCAC. The Quakers are an affiliate member of the conference in field hockey.
Kimberly Trainor (pictured) put the Tigers on the board just 47 seconds into the contest on Bridgette Shamleffer's assist. Shamleffer scored just 50 seconds later before Trainor made it 3-0 at 5:15 on Shamleffer's assist.
Trainor notched the hat trick with an assist from Margaret Ellis at 8:17 before Ellis scored an unassisted goal at 10:59. Sarah Maher rounded out DePauw's scoring at 46:40 before the Quakers' Kate Birdsall scored Earlham's only goal on an assist from Bailey Heinzen at 68:00.
DePauw outshot Earlham, 22-1, and held a 12-1 edge in penalty corners. Maggie Steele was in goal for the Tigers, while Emma Treece totaled 12 saves for Earlham.
The Tigers host Ohio Wesleyan on Sunday, September 18, at Noon.
Back