Saxophone and Electronic Music Recital & Master Class Here Monday
September 15, 2011
September 15, 2011, Greencastle, Ind. — John Sampen, saxophone, and Mark Bunce, composer/electronic musician, will visit the DePauw University School of Music next Monday, September 19, for a guest recital and master class. The programs will take place in Thompson Recital Hall of the Judson and Joyce Green Center for the Performing Arts, with the master class beginning at 3 p.m., followed by the recital at 7:30 p.m. Both events are free and open to the public.
The Monday night concert, titled "Spiritual Music of Asia and the Americas," will feature music by John Cage, Marilyn Shrude, Fuminori Tanada, Toru Takemitsu, Morton Subotnick, and William Bolcom -- as well as a composition by Mark Bunce. These works comprise a large repertoire of contemporary music, many of which rely on electronic interaction. Throughout the concert the audience will hear pre-recorded works, works for live musicians performing with taped musicians, and works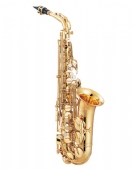 written for a live performer with an interactive computer. Many of the pieces were written for or at the request of Sampen, .
Sampen and Bunce have traveled the world offering unique master classes and concerts.
John Sampen is recognized as an outstanding artist in contemporary music literature. He has commissioned and premiered over 80 works, including compositions by Albright, Bolcom, Cage, Subotnick and Ussachevsky. He regularly performs contemporary and traditional saxophone repertoire in recital with pianist/composer Marilyn Shrude. Currently a Distinguished Research Artist Professor at Bowling Green State University, Sampen is former president of the North American Saxophone Alliance and clinician for the Conn-Selmer Company.
Mark Bunce is a composer, the recording engineer/electronics technician for the MidAmerican Center for Contemporary Music and the director of recording services at Bowling Green State University. A veteran of the recording industry for over 30 years, Bunce has engineered innumerable compact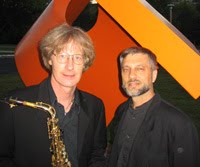 discs and recordings for such labels as Newport Classics, Centaur Records, Opus One, Sony Classics, Koch International, Albany, AMP Records, Orion, Neuma, Vox and Capstone. He has also engineered more than a dozen contemporary music series for public radio, and composed and engineered soundtracks for award-winning corporate videos and PBS signatures.
Founded in 1884, the DePauw University School of Music is one of the nation's oldest private institutions for post-secondary music instruction and the longest-running in Indiana. Learn more here.
Back