James Duncan '10 Awarded Lawrence M. Borst Fellowship
September 27, 2011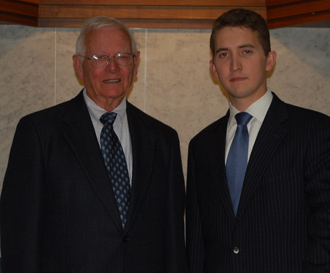 September 27, 2011, Greencastle, Ind. — James Duncan, a 2010 graduate of DePauw University, was today announced as this year's winner of the Lawrence M. Borst Fellowship. Named in honor of a 38-year veteran of the Indiana legislature, the Borst Fellowship is a one-year experience consisting of a 20-hour work week during the fall semester while the student is enrolled full-time in graduate school and a full-time work week during the spring semester and legislative session.(photo: former State Sen. Larry Borst and James Duncan)
Duncan is working under Senate Senior Fiscal Analyst David Reynolds, a position he will continue throughout the 2012 session of the Indiana General Assembly.
In that role, Duncan will assist staff, attend committee meetings and work with Reynolds in helping provide the Senate with important up-to-date fiscal information.
"More than five years after wielding the gavel for the final time in a Senate Finance Committee meeting, its retired chair Lawrence Borst continues to make a difference in the Indiana General Assembly for young people like James Duncan," says State Sen. Connie Lawson. "The Borst Fellowship is designed to encourage and develop young leaders in the Indiana legislative process and I'm pleased a Hendricks County resident and DePauw alumnus has this great opportunity."
Duncan has interned for Gov. Mitch Daniels' office as well as for Sen. Lawson. Duncan has also worked for Mary E. Borst, daughter-in-law of the former longtime senator, at Ivy Tech, where he taught online classes in personal finance and professional development.
"Given the work I've already had the opportunity to do here at the Statehouse, this just seemed like a logical extension to take a more direct role and help support the legislators," Duncan notes.
"It's my attempt to introduce the best and brightest to state government," Borst says of the fellowship program, which began in 2006. "They can understand more about the finances of the state, see first-hand how budgets define policy priorities and understand the impact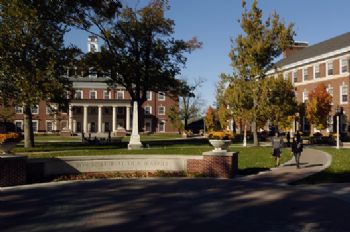 they have on programs and people. As they work as leaders in their respective communities, hopefully they'll continue to build on the leadership qualities they've gained while working with Indiana government."
Duncan is working toward a master's degree in public affairs from the School of Public and Environmental Affairs at Indiana University-Indianapolis, and intends to pursue a law degree. "It's going to give me a unique experience in a wider range of issues, aside from just working toward a budget," Duncan said of working through the "short" session of the Indiana General Assembly, which begins in January and concludes in mid-March. "This is the only place where I'm going to find this opportunity."
The Borst Fellowship program is administered by the Indiana University School of Public and Environmental Affairs (SPEA) and the Senate Internship Program.
Back