David Terry '11 in Cast of Phoenix Theatre's Spring Awakening
September 21, 2011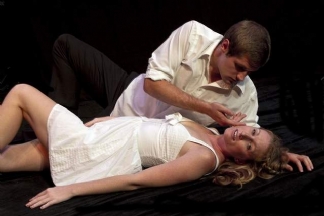 September 21, 2011, Greencastle, Ind. — David Terry, a 2011 graduate of DePauw University, is among the cast of the Phoenix Theatre's production of Spring Awakening. The show, which opens tomorrow, continues through October 23 at the Indianapolis theatre. It "is the musical adaptation of a play by Frank Wedekind, a 19th-century German playwright who broke with realism to present new views of human behavior," notes Jay Harvey in the Indianapolis Star. (photo: David Terry and Carly Kincannon in Spring Awakening/Zach Rosing Productions)
The production, which also features Matt Patterson '09, "deals with the onrush of sexual feelings in young people, plus issues of abortion and physical abuse -- all as teenagers try to process them."
Read more at IndyStar.com.
Over the summer, Terry was cast in the Indiana premiere of Disney's Camp Rock: The Musical. Details can be found in this article.
Back