Hail Malthus!
September 29, 2011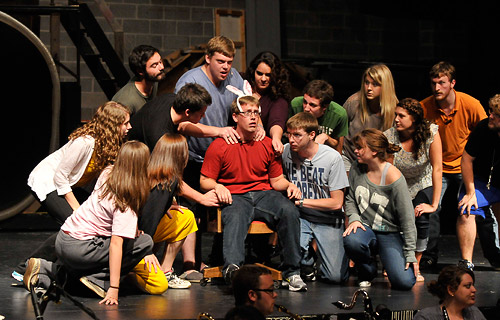 Humor and environmental sustainability come together in a darkly funny 2002 Tony award-winning musical, Urinetown, which opens Thursday, Oct. 6, at 7:30 p.m. in Moore Theatre in the Judson and Joyce Green Center for the Performing Arts.

Urinetown runs Oct. 6-8 at 7:30 p.m. and Sunday, Oct. 9 at 3 p.m. Tickets are $3 for students and $6 for adults, and they are available at the Green Center Box Office. Everyone is welcome to attend an opening-night reception following Thursday's performance, and talk-back Friday night featuring guest speaker Carol S. Steele, associate dean of academic affairs and sustainability coordinator.

The play is set in the mythical Urinetown, where the use of private toilets has been banned in an attempt to regulate water consumption. The citizenry must use public, pay-per-use amenities owned and operated by the Urine Good Company, a malevolent corporation run by the corrupt Caldwell B. Cladwell.

"Urinetown creator Greg Kotis was in Paris, and he didn't have enough money to use a pay toilet," explains director M. Susan Anthony, associate professor of communication and theatre. "That's when the idea of the musical came to him," she says. Anthony notes that Kotis deliberately chose an off-putting title. Then, in Brechtian fashion, he included self-referential moments throughout the show in which characters comment on the bad title and distasteful subject matter. Thus, the audience is constantly reminded that they are watching a play and that serious issues lie beneath the catchy music.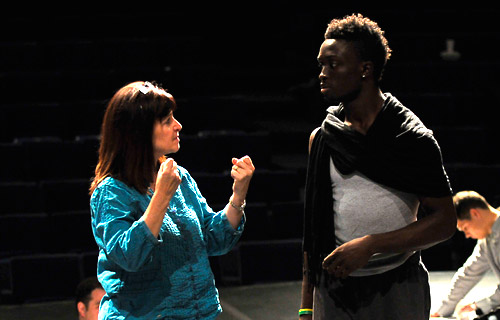 "The writers didn't think the audience would accept a frothy musical that makes fun of itself and has really serious dire issues," Anthony says. "They thought the combination wouldn't be appealing, but it clearly was. Urinetown began as a fringe piece, but it made its way to Broadway against all odds."

Anthony is thrilled with the group of students and staff working on the musical and acknowledges how dedicated they are. "The whole team has been phenomenal," she says. "This is an amazing endeavor, and we'll have been working on it for more than six weeks by the time we open."

Steven R. Linville '06 (below second from left), assistant to the dean of the DePauw School of Music and academic coordinator, is musical director. "Urinetown has been a great show for students because there is such a variety in the styles of music, including pieces in Rodgers and Hammerstein style, to Sondheim-like numbers, to jazz and gospel. There's a little bit of everything," he says.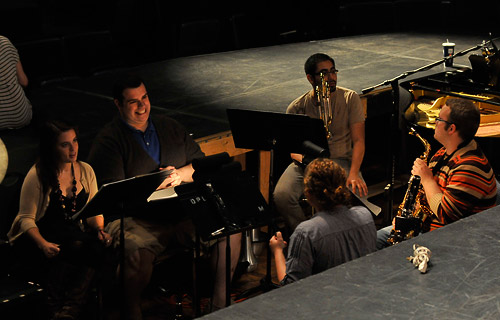 "The show spoofs other musicals, so there is quite a bit of artistic freedom to try new things, see what works and really just have a good time while learning," Linville says.
Senior Jared P. Norman choreographed the musical and also plays Hot Blades Harry in the production.

Anthony, the Urinetown cast of 31 students, and Kerry E. Pannell, dean of faculty and associate professor of economics and management, are working together to present a unique student-faculty colloquium, Urinetown: The Future of Water, on Tuesday, Oct. 4 from 11:30 a.m.-12:30 p.m. in the Memorial Student Union Building, ballroom. The event is free and open to the public. Lunch is provided.

It will be a lively event with musical performances from the cast, an introduction of the play by Anthony and a brief panel discussion, including Michele T. Villinski, associate professor and chair of the economics and management department and co-director of the Environmental Fellows Program.

Seniors Alex S. Lopatka and Katie E. Aldrich will talk about their summer internships and work as sustainability interns. Lopatka spent last summer at the Pacific Northwest National Laboratory. Aldrich interned at the University of North Carolina-Charlotte researching water quality in urban streams.

"The colloquium is really exciting. We're connecting science, social science and the arts to talk about water issues," Pannell says. She encourages the audience to ask questions of the panelists. "If students are interested in these types of environmental issues, here's a great opportunity to learn how to pursue them."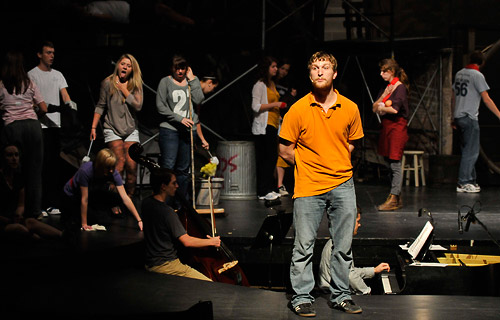 To better understand the last line of the play, "Hail Malthus!" Anthony asked Pannell to write the following explanation in the program.

Thomas Robert Malthus (1766-1834) trained as an Anglican minister before becoming a professor of political economy and a widely revered doomsday soothsayer. His 1789 work, "An Essay on the Principle of Population," predicted that humanity's biological propensity to reproduce, not so different from that of rabbits, would overwhelm the world's natural resources. Little did he know that a place to use the toilet would become the scarcest resource of all.

Urinetown is presented through special arrangement with Music Theatre International (MTI).
For more information about the 2011-12 theatre season, visit the DePauw Theatre website.
Back