Yo-Yo Ma Opens 2011 Discourse with 'Reflections on a Life in Music'
September 29, 2011
Also: DePauw Discourse 2011 Schedule; Presenter Biographies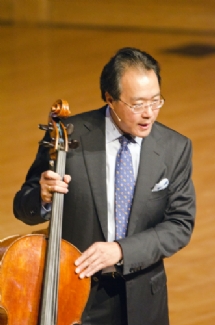 September 29, 2011, Greencastle, Ind. —

[Download Video: "Music & Meaning" - 2007kb] "To me, music, sounds, are always the tip of the iceberg," world-renowned cellist Yo-Yo Ma told an audience at DePauw University tonight. "It's not the sounds that are important -- yes, it's what strikes us, what moves the air molecules that strikes our eardrums -- but it's what is behind those sounds. It's the values behind those sounds that are actually incredibly important, because what we're all looking for, ultimately, in life, is meaning."
Ma's lecture, "Reflections on a Life in Music," opened DePauw Discourse 2011: Empowering Society Through the Arts. The session in Kresge Auditorium of the Judson and Joyce Green Center for the Performing Arts offered, as the Grammy Award-winner described, "a narrative of what were the seminal moments that have influenced me throughout my life" that have led him to
become a "citizen-musician" -- an artist who is connected to the world and committed to making it a better place.
Yo-Yo Ma described learning to play the cello at age 4, and how his relationship with music and understanding of himself grew as he matured and benefited from the guidance of mentors. His interactive lecture included video clips of him performing as a child for Presidents Kennedy and Eisenhower, and for children as accompanied by the Muppets on Sesame Street. On several occasions, he demonstrated his points by playing for the audience of approximately 1,200, which responded to his appearance with a standing ovation.

[Download Video: "Yo-Yo Ma Performs" - 1512kb]
The arts can empower society by stoking "imagination and empathy," Ma told the students, alumni, faculty members and Greencastle citizens who gathered. He spoke of creating work that is bigger than oneself and touches other people's lives, and having a determination to make the world a better place through your work and deeds.

[Download Video: "Imagination & Empathy" - 2909kb] "It's
not about how well you play the cello, it's not about how well you paint something -- it's about what you can use your every ounce in yourselves to identify something and do it so well and imagine it so that it lives in somebody else's mind, because then it's a very deep kind of communication that's hard to measure, hence it's always hard to talk about. But we all know this exists; we all know that we have an inner life that we use and that sometimes it's shared, sometimes it's not. And I'm saying that, for our society, if we develop a societal inner life that we can share in common we can do anything."
Ma described DePauw as a "beautiful campus" and added,

[Download Video: "Yo-Yo Ma on DePauw" - 3722kb] "Coming to the Green Center is amazing -- it's such a beautiful space." He declared, "Because I spent a lot of time here today, I can report that there are very few places, music schools, that have these kinds of facilities to work in. And I do think space does make a
difference in your mood and in your work. This leads me to believe -- and I think I've met enough DePauw students to know -- that they really care about this school."
The 2011 Kennedy Center honoree , who had an afternoon rehearsal at the Green Center, also stated,

[Download Video: "More DePauw Reflections" - 1201kb] "I spent a couple of hours with wonderful, wonderful students and faculty members at DePauw and I just have to say they are fun, engaging, flexible -- all the wonderful things you would want and wish musicians to have."
Yo-Yo Ma will perform in a sold-out concert Friday at 6 p.m. in Kresge Auditorium, accompanied by 28 members of the Chicago Civic Orchestra. After his lecture tonight, he worked with dozens of DePauw School of Music students. His visit is made possible by Judson and Joyce Taglauer Green ('74 & '75).
The recipient of numerous awards -- including the Avery Fisher Prize (1978), the Glenn Gould Prize (1999), the National Medal of the Arts (2001), the World Economic Forum's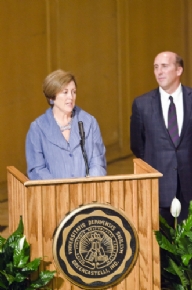 Crystal Award (2008), and the Presidential Medal of Freedom (2010) -- Ma serves as the Judson and Joyce Green Creative Consultant for the Chicago Symphony Orchestra. He was introduced at DePauw by Deborah Rutter, president of the CSO, who stated,

[Download Video: "Deborah Rutter" - 1433kb] "This is a very, very special place, but it is especially important because it is one of the first schools of music in the country, training and educating wonderful, wonderful musicians over a very long time -- 125 years -- that's older than the Chicago Symphony Orchestra ... so I congratulate you for a great school." (at left: Rutter with DePauw President Brian W. Casey)
DePauw Discourse continues in the morning with a series of events, culminating with Yo-Yo Ma's evening performance. Learn more by clicking here.
Founded in 1884, the DePauw University School of Music is the nation's sixth-oldest private institutions for post-secondary music instruction and the longest-running in Indiana. Learn more here.
Back