Centre Remains Undefeated with 24-10 Football Win Over Tigers
October 1, 2011
Also: Pre-Order 2011 Monon Bell Classic DVD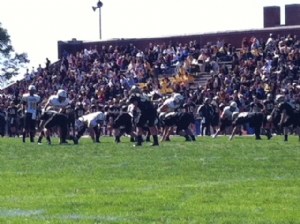 October 1, 2011, Greencastle, Ind. — Two of the winningest teams in Division III football history squared off today on a beautiful fall day at Blackstock Stadium, but undefeated Centre College was too much for DePauw University, winning the Family Weekend contest, 24-10. DePauw falls to 1-3 on the season, while the Colonels improve to 4-0.
Centre ranks 14th in Division III history with a 554-401-37 record in 119 seasons; DePauw, which has played 124 seasons of football, is 17th with a 541-467-40 mark.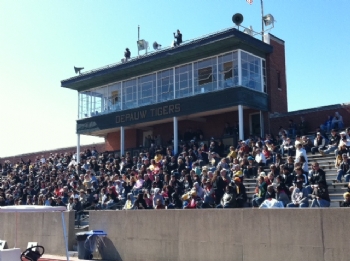 The first score of the afternoon took place with 11:45 left in the second quarter. Centre capitalized after DePauw fumbled on an option play, turning the ball over at their own 7 yard line. Colonels quarterback Tyler Osterman rushed for a touchdown from 5 yards out, and it was 7-0 Centre.
The lead expanded to 10-0 when Jordan Gay hit a 30-yard field goal as time expired in the second quarter.
Centre then made it 17-0 when Osterman connected on a 42-yard scoring pass to Rob Mellilo only 8 seconds into the third quarter.
DePauw dented the scoreboard with a 31-yard Eric Malm field goal with 8:41 remaining in the third.
But Centre's advantage grew to 24-3 when a Tiger fumble was returned 20 yards for a touchdown with 12:54 left in the game.
DePauw's Myron Burr blocked a late field goal attempt by the Colonels.
With 40.6 seconds left to go, the Tigers reached the end zone when Bryan Coleman took it in from a yard out, bringing the score to 24-10, the final.
Tiger sophomore quarterback Jackson Kirtley, making his first collegiate start, was 15-of-32 through the air for 141 yards and one interception. Kirtley was also the black and gold's leading rusher, accumulating 95 yards on 18 carries. Coleman gained 38 yards on 18 carries, including the TD.
The Tigers committed four turnovers and were penalized nine times for 81 yards.
Formerly foes in the Southern Collegiate Athletic Conference (DePauw begins football competition in the North Coast Athletic Conference next season), the two schools have now played for 15 consecutive seasons. DePauw's lead in the all-time series falls to 13-7. Centre has now won the last two meetings at Blackstock Stadium.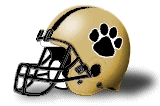 DePauw will be idle next week, but returns to action on Saturday, October 15, at Sewanee (University of the South). The next home game is set for November 5 when the Tigers host Albion at 1 p.m.
A summary is available via Kentucky's Danville Advocate-Messenger.
For comprehensive coverage of today's game and historical information, visit the football team's official online page.
Pre-orders and now being accepted for the 2011 Monon Bell Classic DVD. The annual rivalry contest with Wabash College is set for November 12 at Blackstock Stadium. Learn more, and place an online order, by clicking here.
Back