Second-ranked Tigers Win Rain-Shortened Allegheny Invitational
October 3, 2011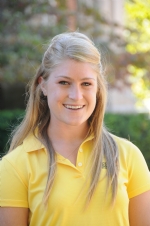 October 3, 2011, Meadville, Pa. — Second-ranked DePauw shot a 320 and won the Allegheny Invitational by seven strokes over Walsh. The tournament was scheduled for 36 holes, but was shortened to 18 due to rain both yesterday and today.
Abby Dickey (pictured) paced the Tigers with a 77 which tied for first with Mercyhurst's Caitlin Kempton. Kempton was named the medalist based on a scorecard playoff.
Paige Gooch tied for third with a 78, while Camila Romero was tied for fifth at 81. Kelly Gaughan and Kelsey Smith each shot 84 to tie for 13th. Playing as an individual, Sam Stahler shot a 90 to tie for 23rd.
DePauw returns to action on October 8-9 at Wittenberg's Pat Clouse Invitational.
Allegheny Invitational
The Country Club of Meadville
Meadville, Pa.
Dates: 10/2-3/2011
Par 73, 5818 yards  (0 teams, 0 players)

DePauw University............. 320   +28      1st
Abby Dickey...................  77    +4   t- 1st
Paige Gooch...................  78    +5   t- 3rd
Camila Romero.................  81    +8   t- 5th
Kelly Gaughan.................  84   +11   t-13th
Kelsey Smith..................  84   +11   t-13th
Sam Stahler#..................  90   +17   t-23rd

Walsh University.............. 327   +35      2nd
Katy Collins..................  81    +8   t- 5th
Jenny Tsangeos................  81    +8   t- 5th
Nikki Kulasa..................  82    +9   t- 8th
Kim Smith.....................  83   +10   t-10th
Amanda Griffin................  90   +17   t-23rd

Allegheny College............. 335   +43      3rd
Lauren Hammell................  78    +5   t- 3rd
Sarah Vorder Bruegge..........  82    +9   t- 8th
Liz Blyth.....................  83   +10   t-10th
Michelle Magagna#.............  88   +15   t-19th
Miranda Santucci..............  92   +19   t-31st
Abby Sorensen.................  94   +21   t-36th
Lauren Wind#..................  98   +25     38th

Wittenberg.................... 342   +50      4th
Deanna Mychalishyn............  83   +10   t-10th
Nicole Waers..................  84   +11   t-13th
Anne Busam....................  87   +14   t-17th
Rachel Steiner................  88   +15   t-19th
Carolyn Wong..................  90   +17   t-23rd

Baldwin-Wallace College....... 356   +64   t- 5th
Miranda Cunningham............  86   +13     16th
Rebecca Kapusta...............  89   +16     22nd
Emilee Woolf..................  90   +17   t-23rd
Brooke Hamilton...............  91   +18   t-29th
Rebecca Jones.................  91   +18   t-29th
Sarah Allred#.................  93   +20   t-34th
Sarah Terrill#................ 110   +37     50th

Mercyhurst College............ 356   +64   t- 5th
Caitlin Kempton...............  77    +4   t- 1st
Kristen Vidmar................  87   +14   t-17th
Veronica McCoy#...............  92   +19   t-31st
Andrea Novoa..................  92   +19   t-31st
Breda Knott................... 100   +27     41st
Lindsey gotkin#............... 104   +31     45th
Andrea Carneval............... 105   +32   t-46th

Allegheny Invitational
The Country Club of Meadville
Meadville, Pa.
Dates: 10/2-3/2011
Par 73, 5818 yards  (0 teams, 0 players)

Denison....................... 401  +109      7th
Stacey Adams..................  90   +17   t-23rd
Elizabeth Tristano............  93   +20   t-34th
Carly Schultz................. 102   +29   t-42nd
Parker Shea................... 116   +43   t-53rd
Amanda Castle.................  dq 

Wooster, College of........... 403  +111      8th
Rainey Sullivan...............  88   +15   t-19th
Janet Sullivan................  94   +21   t-36th
Alyssa Gilbert................ 105   +32   t-46th
Joanie Jenkins................ 116   +43   t-53rd
Nichole Gustafson............. 120   +47   t-55th

Washington & Jefferson College 410  +118      9th
Katelyn Vannoy................  99   +26   t-39th
Jennifer Suder................ 102   +29   t-42nd
Tara Fatula................... 103   +30     44th
Catherine Robinson............ 106   +33   t-48th

Ohio Wesleyan University...... 413  +121     10th
Sarah McQuade.................  90   +17   t-23rd
Alison Falk...................  99   +26   t-39th
Katy Keckler.................. 112   +39   t-51st
Emily Olmstead................ 112   +39   t-51st
Courtney Tincher..............  dq 

Thiel College................. dnc 
Kayla Langer.................. 106   +33   t-48th
Emily Fredrich................ 120   +47   t-55th
Melissa Sloan................. 153   +80     57th
Kayla McFeeley................  wd 

# Indicates individual player

Back