Three Alumni Among IBJ's 'Who's Who in Education'
October 15, 2011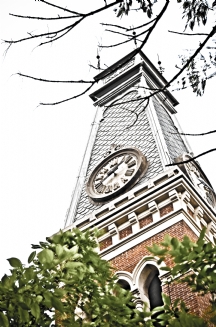 October 15, 2011, Greencastle, Ind. — Three alumni of DePauw University -- Dennis Bland ' 87, M. Karega Rausch '99, and Marcus Robinson '94 -- are listed among "Who's Who in Education" by the Indianapolis Business Journal. "More than 100 individuals were nominated, representing public and private schools, secondary and post-secondary education, educational think-tanks, legislators and other organizations active in the sphere," notes the publication. "Selections were made by those within the sector using a peer-review process."
Dennis E. Bland "is president of the Center for Leadership Development, an Indianapolis not-forprofit dedicated to empowering African American
youth for academic, college and career success," states IBJ's profile. "Founded in 1977, CLD offers 11 curriculum-based youth development experiences that nurture more than 1,200 youth and parents per year. Bland is just the second president in the organization's 34-year history, having succeeded S. Henry Bundles." It also notes his service as a member of the Indiana Commission for Higher Education and Indiana Education Roundtable, as well as his DePauw degree.
As the Indianapolis director of Stand for Children, "Karega Rausch is responsible for strategic planning, meeting community organizing and advocacy goals, supervising staff

and helping to raise the annual budget for Indianapolis. Before joining Stand earlier this year, Rausch was the charter schools director for both Mayor Greg Ballard and Mayor Bart Peterson. He was responsible for executing each mayor's education initiatives, particularly the development, oversight, expansion and enhancement of the charter schools initiative." IBJ also reports, "Rausch serves on a number of boards and committees, including the governing board of the National Association of Charter School Authorizers, as an appointed member of the Indiana Charter Schools Board and on the education committee for the United Way of Central Indiana."
Marcus Robinson is chancellor and CEO of EdPower and "is also the principal of Charles A. Tindley Accelerated School, the much touted charter school, serving students in grades six through 12 ... EdPower was recently selected by the Indiana Board of Education to turn around Arlington High School. The
organization aspires to a network of accelerated schools in central Indiana." Noting that Robinson worked in DePauw's admission office after graduating from the University, the text adds, "As a product of both inner-city and suburban schools, Robinson developed a deep sense of the wide chasm of educational opportunity that separates students in at-risk communities from their wealthier peers. Robinson is dedicated to making strides to close that gap."
Access the complete "Who's Who in Education" feature at the Business Journal's website.
Back