DePauw Ties for Second at Small College Classic; Singer is Second Individually
October 9, 2011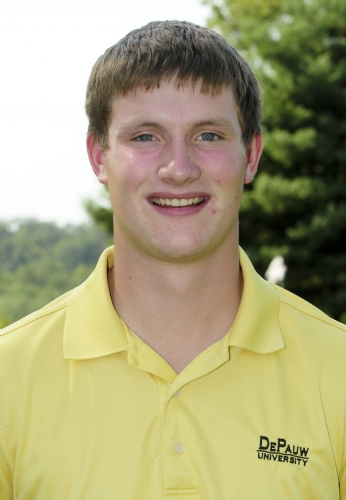 October 9, 2011, Clayton, Ind. — DePauw shot a two-round 608 and finished in a tie for second with Denison and behind Centre's 599 at the DePauw Small College Classic. The Tigers' 302 today matched Centre's low round for the day at the Deer Creek Golf Club.
DePauw was paced by Graham Singer's (pictured) 148 which was good for second place. Ryan Berra and Kyle Robbins each shot 153 to tie for 1th, while Eric Tandy finished in a tie for 17th at 154 and Ty Frost tied for 37th with a 162.
Playing as individuals, Charlie Castino tied for 14th with a 153 followed by Nate Smith and Nick Nunley in a tie for 27th at 158. Spencer Strup shot a 159 to tie for 30th, while Brandon Bekkering finished with a 161, Andy Hill with a 162 and Will Block with a 188.
DePauw wraps up the fall portion of its schedule October 17-18 at the Royal Lakes Oglethorpe Invitational.
ALL-TOURNAMENT TEAM (scorecard tiebreaker at 10th place)
1 Patrick Davidson Centre Col 70 75 145
2 Graham Singer De Pauw 73 75 148
3 Garth Fenney Oakl. City 75 75 150
Grant Hinton Centre Col 72 78 150
Dylan Lee Denison U. 72 78 150
John Minton Centre Col 76 74 150
7 *Tyler O'Daniel Centre Col 76 75 151
8 Dylan Francis Denison U. 75 77 152
*Mitch Oard Franklin 79 73 152
*Rob Aldrich Centre Col 79 73 152

 FINAL RESULTS           DePauw Small College Classic  
                         Deer Creek Golf Club     Clayton IN     
                         Dates: 10/08 - 10/09     (Today:10-09-2011)
                                   Par:        71                
                                   Yardage:  6700                

      Fin.   School                   Scores  

         1   Centre College           297  302    599
         1    Patrick Davidson         70   75    145
      T  3    Grant Hinton             72   78    150
      T  3    John Minton              76   74    150
      T 20    Wilson Trent             79   76    155
      T 23    Kenyon Cook              79   77    156

      T  2   De Pauw University       306  302    608
         2    Graham Singer            73   75    148
      T 14    Ryan Berra               77   76    153
      T 14    Kyle Robbins             77   76    153
      T 17    Eric Tandy               79   75    154
      T 37    Ty Frost                 81   81    162

      T  2   Denison University       302  306    608
      T  3    Dylan Lee                72   78    150
      T  8    Dylan Francis            75   77    152
      T  8    James Slovitt            77   75    152
      T 17    Aaron Klimchuk           78   76    154
        WD    Alex Geanakos            82   WD       

         4   Franklin College         320  314    634
      T 23    J.J. Burns               80   76    156
      T 27    Chris Arnold             79   79    158
      T 32    Adam Zimmerman           83   77    160
        41    Will Reno                83   82    165
        45    Daylan Mueller           78   91    169

         5   Wabash College           329  324    653
      T 25    Jackson Stevens          78   79    157
      T 32    Seth Hensley             80   80    160
      T 42    Logan Burdick            86   81    167
        46    Scott Morrison           86   84    170
        49    Michael Piggins          85   88    173

         6   Rose-Hulman Institut     339  324    663
      T 25    Jeremiah Cole            77   80    157
      T 34    Nick Parham              84   77    161
      T 42    Aaron Kiraly             86   81    167
      T 57    Blake Knotts             92   87    179
        59    Tucker Cox               94   86    180

         7   Anderson University      342  325    667
      T 20    Paul O'Bold              78   77    155
      T 30    Daniel Elliott           82   77    159
        48    Collin Miller            87   85    172
        60    Jared Hennig             95   86    181
        WD    Kyle Bussell             95   WD       

         8   Oakland City U.          345  343    688
      T  3    Garth Fenney             75   75    150
      T 50    DJ Harder                91   83    174
      T 53    Garth Curl               84   91    175
        63    Dillon Gregory           95   94    189
        64    Derrick Reed             96   96    192

         9   Manchester College       354  344    698
        47    Tyler Shearer            82   89    171
      T 50    Michael Rutledge         91   83    174
        55    Dylan Crosley            94   82    176
        56    Patrick McNinch          88   90    178
        61    Casey Cyr                93   90    183


   Fin.   Individuals            School       Scores  

      7   Tyler O'Daniel         Centre Col    76   75    151
   T  8   John Hester            Centre Col    76   76    152
   T  8   Mitch Oard             Franklin      79   73    152
   T  8   Grant Blevins          Centre Col    76   76    152
   T  8   Rob Aldrich            Centre Col    79   73    152
   T 14   Charlie Castino        De Pauw       79   74    153
   T 17   Tyler Sanderson        Centre Col    79   75    154
   T 20   James Kennedy          Wabash        76   79    155
   T 27   Nathan Smith           De Pauw       77   81    158
   T 27   Nick Nunley            De Pauw       79   79    158
   T 30   Spencer Strup          De Pauw       79   80    159
   T 34   Nick Sommer            Wabash        84   77    161
   T 34   Brandon Bekkering      De Pauw       81   80    161
   T 37   Andy Hill              De Pauw       83   79    162
     39   Zach Schmitt           Franklin      79   84    163
     40   Scotty Johansen Jr.    Wabash        88   76    164
   T 42   Kyle Ratliff           Franklin      80   87    167
   T 50   Ben Foster             Wabash        83   91    174
   T 53   Josh Moore             Franklin      87   88    175
   T 57   Alex Robbins           Wabash        88   91    179
     62   Will Block             De Pauw       93   95    188



Back