Ticket Distribution Plan for 2011 Monon Bell Classic is Announced
October 10, 2011
Also:

[Download Video: "Ballad of the Monon Bell - 2007 Version" - 10,419kb]

[Download Audio: "Ballad of the Monon Bell - Stereo" - 2514kb];

[Download Video: "1993 Version - Ballad of the Monon Bell" - 10,522kb]; Order Monon Bell Classic DVDs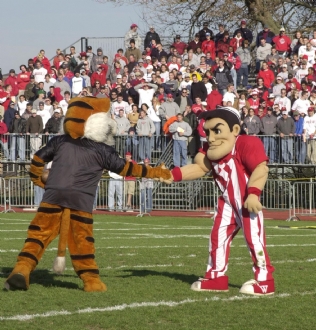 October 10, 2011, Greencastle, Ind. — DePauw University's tickets for the 118th meeting on the football field with Wabash College, which will take place November 12 at Blackstock Stadium, will become available later this month, Page Cotton, director of athletics at DePauw, announced today.

[Download Video: "1955 Monon Memory" - 6739kb]
Ticket distribution for DePauw students, faculty and staff will take place over a two-day period, October 24-25, with complimentary 2011 Monon Bell game tickets available for pickup in the ballroom of the Memorial
Student Union Building. The distribution takes place between 8:30 a.m.-4:30 p.m. each day. With a valid DePauw I.D., current students may pick up one ticket, while faculty and staff will be allowed no more than two each. During these two days there will be no cash purchases allowed and this will be the only time the complimentary tickets will be made available.

[Download Video: "1895 Monon Memory" - 2011kb]
On Wednesday, October 26, at 8:30 a.m., tickets on the DePauw side of the stadium will become available for sale online. The tickets, which are $15 each, may be purchased online only with a credit card through this link, which will also be posted on the Monon Bell page. There will be a $1 per order shipping and handling fee and a maximum purchase of eight tickets per order. Online sales will continue until a sellout of the DePauw side is reached.

[Download Video: "1981 Monon Memory" - 5633kb]
A
ll tickets sold at DePauw (gold tickets) are for seating on the DePauw side only and there will be no will call at the stadium.
"If fans want a ticket they need to make sure they obtain them early as the game will sell out quickly," Cotton notes. "The popularity of the Monon Bell game continues to grow and we look forward to providing fans a fun and safe environment."

[Download Video: "1932 Monon Memory" - 3518kb]
Kickoff for the 118th gridiron meeting between the two schools and the 80th for possession of the Monon Bell is set for just after 1 p.m. on Saturday, November 12 at Blackstock Stadium.

[Download Video: "2007 Monon Memory" - 7808kb]
Gates open at 11:30 a.m. and the Blackstock parking lot will open to the public at 9 a.m. There will be a $5 cash fee for parking in the Blackstock lot. Complete parking and tailgating information is available here.

[Download Video: "1890 Monon Memory" - 4409kb]
This year's game will again be telecast across America on the high definition network HDNet with telecast parties arranged by DePauw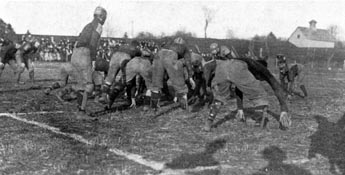 and Wabash alumni. Wabash leads the all-time series 55-53-9, while DePauw leads in games played for the Monon Bell by a 37-36-6 count. (photo at right: 1906 DePauw-Wabash game;

[Download Video: "1906 Monon Memory" - 4700kb])
A complete roster of "Monon Memories" -- video highlights of past classics -- can be found here.
Pre-orders and now being accepted for the 2011 Monon Bell Classic DVD, which will include this year's contest and a range of bonus material, including photo galleries and historic clips from past games. Learn more, and place an online order, by clicking here.
Complete game day information will be available here.
Back