Tigers Tie Score with One Second Left in Regulation; Top Wittenberg in Overtime
October 12, 2011
BOX SCORE | HIGHLIGHTS COURTESY OF WITTENBERG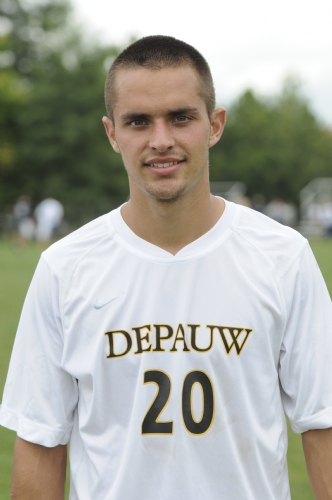 October 12, 2011, Springfield, Ohio — Dean Weaver's goal from about 25 yards out and with just one second left in regulation drew DePauw even with Wittenberg and the visiting Tigers won the game early in overtime by a 2-1 score at Wittenberg.
DePauw, ranked 17th by d3occer.com and 25th in the NSCAA Coaches' Poll, improved to 10-2 overall and 4-1 in the North Coast Athletic Conference, while Wittenberg dropped to 5-7-1 overall and 1-3 in NCAC play.
Weaver's (pictured) goal came just seconds after DePauw hit the crossbar. The rebounded back to Wittenberg and the host Tigers tried to clear the ball downfield, but Weaver gained control and fired a shot toward the left corner which went off the Wittenberg keeper's hands and into the goal.
In the overtime, Sam Meyer delivered the game-winner just 1:32 into the first extra session on Andy Morrison's assist. Wittenberg took a 1-0 lead on Joe Halula's goal at the 42:30 mark.
DePauw held a 19-11 advantage in shots and a 9-2 edge in corners. The win also improved the Tigers' record in overtime games this season to 5-0.
DePauw travels to Wooster on Saturday for a 3:30 p.m. contest.
Back