Battle of Football Tigers Goes to Sewanee, 30-7
October 15, 2011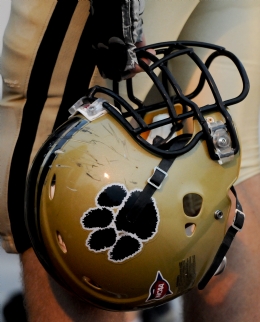 October 15, 2011, Sewanee, Tenn. — Today's football game between two former Southern Collegiate Athletic Conference rivals who both are known as Tigers went to the hosts, as Sewanee (University of the South) defeated DePauw University, 30-7. The black and gold's fourth consecutive loss drops DePauw to 1-4 on the season; Sewanee improves to 3-4.
DePauw's offense managed 240 yards on the day, compared to 348 for Sewanee. The visitors' only score came on a 95 yard kickoff return in the second quarter by Taylor Wagner, who finished with 222 all-purpose yards. Armani Cato led the rushing attack with 84 yards on 18 carries.
The teams met for the 14th straight year after sharing Southern Collegiate Athletic Conference affiliation for 13 seasons. DePauw's all-time advantage in the series falls to 12-2 series and their winning streak versus Sewanee is snapped at 11 victories.
It's the first time since 2005 that Sewanee has won more than two football games in a season.
Next up for DePauw is another road contest at Ohio Wesleyan next Saturday.
For comprehensive coverage of today's game

and historical information, visit the football team's official online page.
Pre-orders and now being accepted for the 2011 Monon Bell Classic DVD. The annual rivalry contest with Wabash College is set for November 12 at Blackstock Stadium. Learn more, and place an online order, by clicking here.
DePauw's ticket distribution for the 118th Monon Bell Classic will begin on October 24. Details can be found in this story.
Back