Lee Hamilton '52 Co-Chairing Indiana Bicentennial Commission
October 5, 2011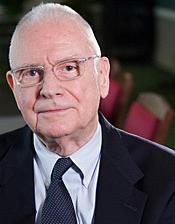 October 5, 2011, Greencastle, Ind. — Lee H. Hamilton, veteran statesman and 1952 graduate of DePauw University, will serve as co-chair of the Indiana Bicentennial Commission. Governor Mitch Daniels has appointed Hamilton and Lt. Gov. Becky Skillman to lead the 13-member group, which "will recognize and celebrate the history of the Hoosier state's first 200 years," notes an announcement.
"Every survey shows that Americans' knowledge of their own history has slipped sadly over recent decades, and that is a danger to our future," says Governor Daniels. "A well planned bicentennial, led by two Hoosiers who have made much history themselves, can be not only a joyful Hoosier celebration, but also a way to strengthen our free institution's collective sense of good citizenship."
According to the governor's office, "The Indiana Bicentennial will be celebrated in 2016. The commission is responsible for planning and developing activities appropriate to commemorate Indiana's statehood. The commission will encourage private organizations and local governments to organize and participate in activities
and will help coordinate and promote bicentennial activities throughout Indiana."
The announcement adds, "Hamilton, of Bloomington, represented Indiana's 9th Congressional District in Congress from 1965 to 1999. Since retiring from Congress, he has been appointed to a number of national governmental boards, including serving as co-chair of both the 9/11 Commission and the Iraq Study Group. Additionally, he sits on the advisory board for the CIA and the president's Homeland Security Advisory Council."
Read more by clicking here. The announcement is also noted in an Associated Press report.
On March 15, Lee Hamilton returned to DePauw to deliver a Timothy and Sharon Ubben Lecture. A summary including video clips can be accessed here.
Back