James B. Stewart '73 is 2011 Elliott V. Bell Award Recipient
October 17, 2011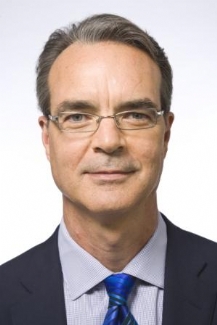 October 17, 2011, Greencastle, Ind. — James B. Stewart, New York Times columnist, award-winning financial journalist and author, and 1973 graduate of DePauw University, will receive the 2011 Elliott V. Bell Award from the New York Financial Writers Association this Wednesday, October 19. The award recognizes an individual's lifetime contributions to the field of financial journalism. Stewart will be honored at an event at the CUNY (City University of New York) Graduate School of Journalism.
The author of the "Common Sense" column for the Business Day section of the New York Times, Stewart won the Pulitzer Prize for Explanatory Journalism in 1988 for his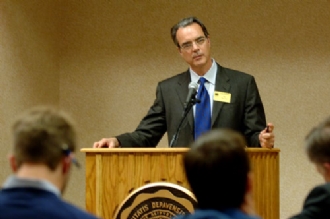 articles in the Wall Street Journal about the 1987 dramatic upheaval in the stock market and insider trading. Stewart was named page one editor of the Journal in 1988 but left the paper four years later to found SmartMoney magazine. He is the author of 11 books including Den of Thieves; DisneyWar: The Battle for the Magic Kingdom; Heart of a Soldier: A Story of Love, Heroism, and September 11th; and Tangled Webs: How False Statements are Undermining America from Martha Stewart to Bernie Madoff.
S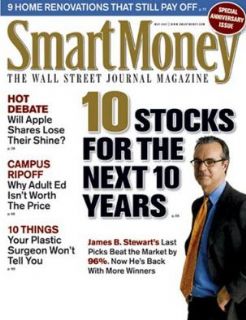 tewart has been honored with the Edgar Award, the George Polk Award and Gerald Loeb awards in 1987, 1988, and 2006. He is Bloomberg Professor of Business and Economic Journalism at CUNY and is a member and past chair of DePauw's Board of Trustees.
Stewart was the recipient of DePauw's Young Alumni Award in 1988, an Alumni Citation in 1988, an honorary Doctor of Journalism degree in 1989, and the Old Gold Goblet in 2009.
Learn more about Wednesday's event by clicking here.
James Stewart was back on the DePauw campus September 29 - October 1 for DePauw Discourse 2011: Empowering Society Through the Arts. He was part of a panel that discussed the new opera, Heart of a Soldier, which is adapted from Stewart's book of the same name.
You'll find more information in this recent article.
Back