"America Has Some Important Unfinished Business," George Romney Tells DePauw Audience
April 28, 1962
April 28, 1962, Greencastle, Ind. — Lobbyists, businesses and other forces have too much influence on American politics and "the individual is being engulfed in vast organizations and power groups," according to George W. Romney. The former president of American Motors Corporation and now a candidate for governor of Michigan, Romney addressed DePauw University's ninth annual Conference on Business and Industry. "In larger and larger numbers, he is transferring his rights of citizenship to the corporation, union, association, bureau or league, or idly watching his responsibilities drift to Washington."
Romney's luncheon address today at the Memorial Student Union, entitled "Citizenship vs. the Power Groups," attracted more than 300 Midwestern business executives and DePauw students, faculty and staff. An overflow crowd heard audio of the speech via loudspeakers set up in the Union Building lounge. (at right: DePauw President Russell J. Humbert, Romney and Howard Sheperd '16 talk following Mr. Romney's address)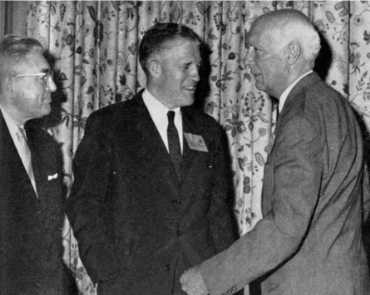 "Too many people are without personal interests or convictions," Romney told those assembled. "They remain non-political because the ways in which politics operate on them are so generalized and so remote that they consider it all but impossible to interfere."
The Republican, who left his position with American Motors in February and is vice president of the Michigan constitutional convention, said the "renunciation of politics" presents "three major dangers": Romney sees a "vacuum in political power and leadership" being created; a "subsititution of economic citizenship for direct political citizenship"; and a threat to "the social unity vital to society as a whole."
Active in civic affairs, Romney organized Citizens for Michigan, a nonpartisan group that seeks to study Detroit's problems and build an informed electorate. He was the 1959 recipient of the Anti-Defamation League of B'nai Brith's Americanism award.
Romney told his DePauw audience, "The most effective means of putting some hope and zest back into political participation would be for the political parties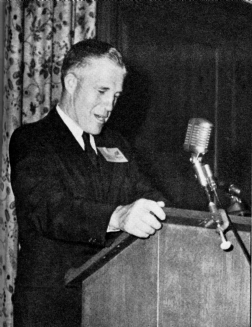 to reject economic power group participation, reach out for citizen participation, put less emphasis on dollars and more emphasis on people." He added, "We need to bring our political parties and the people together, if our democratic system is to continue to be truly representative. When the people have had no choice, they are powerless to act, and control is defaulted to willful power groups who can be arrogantly unaccountable to a listless electorate."
The gubernatorial candidate concluded, "Greater exercise of citizenship is an essential factor in America's future. We need to reawaken to the idea, I believe, that America has some important unfinished business. The American Revolution was not a distant explosion, from which the dust has long since settled. It is a continuing process, and we should never forget this. We must continue our revolution, by restoring faith in the individual and helping the individual to restore faith in himself and his citizenship."
The two-day conference began yesterday with an address by Arthur F. Burns, president of the National Bureau of Economic Research.
Back