George Romney to Headline 9th Annual Business & Industry Day
February 14, 1962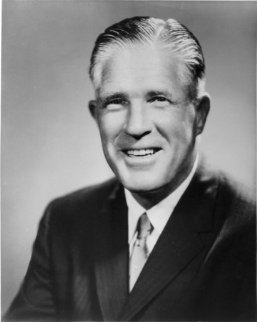 February 14, 1962, Greencastle, Ind. — George Romney, former president of American Motors Corporation and now a Republican candidate for governor of Michigan, will highlight DePauw University's ninth annual Conference on Business and Industry. Romney, who has been mentioned as a possible presidential candidate in 1964, will discuss "Citizenship vs. the Power Groups" at a 12:15 p.m. luncheon on Saturday, April 28. The program will take place in the ballroom of the Memorial Student Union Building.
The conference draws business leaders from across the Midwest, in addition to DePauw students and members of the faculty and staff.
The 54-year-old Romney stepped into the political spotlight this past weekend when he announced he would leave American Motors to seek Michigan's top political post. During his tenure at AMC, Romney brought the company from near bankruptcy to a position as America's fourth-largest automotive firm.
DePauw President Russell J. Humbert has also announced that Arthur F. Burns, president of the National Bureau of Economic Research, will open the conference with an evening address on Friday, April 27. A noted economist and author, Dr. Burns was chairman of President Eisenhower's Council of Economic Advisers from 1953-56.
He currently serves as a member of President Kennedy's advisory council on labor-management policy.
Burns will deliver the first lectureship in economics provided by the Paul L. Morrison Fund in Political Economy, honoring the 1921 DePauw graduate and former assistant to the director of the budget in the first Eisenhower administration.
Bernard "Barney" Kilgore, president and publisher of the Wall Street Journal and 1929 graduate of DePauw, will address the conference prior to George Romney's speech. Kilgore is a member of DePauw's Board of Trustees.
Vice President Richard M. Nixon was the featured speaker at 1957's Conference on Business and Industry. Details are available in this summary.
Back