DePauw Orchestra Explores ArtsFest Theme in October 30 Concert
October 23, 2011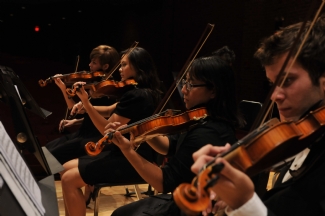 October 23, 2011, Greencastle, Ind. — The DePauw University Orchestra will celebrate the start of ArtsFest 2011 during its second concert of the season, which will take place on Sunday, October 30, at 3 p.m. The Orchestra will perform three diverse works that approach "truth in art" from different perspectives in the program, which will take place in the Green Center for the Performing Arts' Kresge Auditorium.
The theme of this year's ArtsFest at DePauw is "Art and Truth?"
"Perspectives, on whether art is truth in some way, are handled very differently by these composers," notes Orcenith Smith, professor of music and conductor of the DePauw Orchestra. "The Sunday concert will reflect these perspectives, beginning with Mozart's Symphony No. 10, followed by Hungarian composer György Ligeti's Atmospheres, and ending with Russian composer Igor Stravinsky's Firebird ballet suite."
Professor Smith adds, "Mozart, at age 14, could only energetically
scribble without filter, music that seemed to flow from other music that he had heard. Ligeti thoughtfully engaged in trying to put sounds down that were inspired by sound shapes in his mind. Stravinsky creates a convincing believability in the music that portrays characters in an old legend. In all music we listen to -- from country to classical -- we listen for ideas that create structures. Our personal appreciation of the music is based on how it captures a 'truthful' resonance to our experiences."
The October 30 concert is free and open to the public.
Founded in 1884, the DePauw University School of Music is one of the nation's oldest private institutions for post-secondary music instruction and the longest-running in Indiana. Learn more here.
Back