With Gadhafi's Death "The Hard Work Begins," Says Former VP Dan Quayle '69
October 20, 2011
October 20, 2011, Greencastle, Ind. — Hours after the death of former Libyan dictator Muammar Gadhafi, America's 44th Vice President, Dan Quayle, stated, " I don't think it's going to change things much immediately. The focus right now is, you know, who's going to succeed Gadhafi. This transitional government there, we really don't know who the leader's going to be."
Quayle, a 1969 graduate of DePauw University, was a guest on Fox News Channel's On the Record tonight. He predicted to host Greta Van Susteren that "in the next six to twelve months, there's going to be a lot of fighting, jockeying for position. And particularly, the Islamists, the radicals and al Qaeda and those supporters will try to move in to have a lot of say in this next government. We don't know how it's going to turn out. That was one of the big questions everyone had. OK, fine, let's get rid of Gadhafi. But what succeeds Gadhafi? We don't really know. It's good that he's gone. He was a tyrant. He was -- you know, needed to go. And you do have to give credit to the Obama administration."
The former U.S. Senator and congressman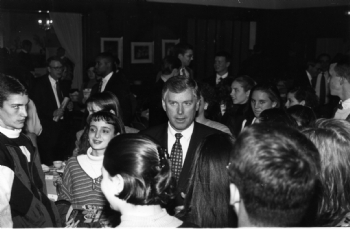 added, "Now the hard work begins. Who succeeds him? What kind of a government are we going to have? Is it going to be pro-West? Early indications are that it could be. We don't know. And we won't know for a year." (at right: Dan Quayle at DePauw in 1995)
The former vice president also discusses the 2012 presidential race and Republican Herman Cain's 9-9-9 plan. Access video of Quayle's appearance by clicking here.
Dan Quayle is now chairman of Cerberus Global Investments. A member of DePauw's Athletic Hall of Fame, Quayle captained the Tiger golf team. On October 26, 1990, the vice president was awarded his alma mater's McNaughton Medal for Public Service. A video montage of that visit, which included a speech in a jam packed Neal Fieldhouse, can be seen here:

[Download Video: "VP Dan Quayle '69 at DePauw" - 14,947kb].
On May 22, 1982, as a United States Senator, Quayle provided the commencement address at DePauw.
Back