Tigers Back on Winning Track After 34-10 Football Triumph at Ohio Wesleyan
October 22, 2011
Also: Order Monon Bell Classic DVDs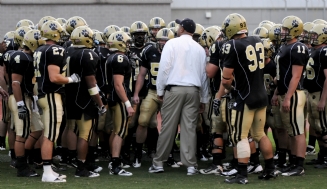 October 22, 2011, Delaware, Ohio — DePauw University's football team snapped a four game losing streak with a come-from-behind victory over host Ohio Wesleyan today, 34-10. Down 10-0 early, the visitors responded with 34 unanswered points. The Tigers' season record improves to 2-4; OWU falls to 1-6.
With 7:05 left in the first quarter, Ohio Wesleyan's Miles MacKenzie hit a 23-yard field goal, giving the Battling Bishops a 3-0 advantage.
Shortly afterward, a DePauw fumble put OWU in scoring position again.
Kevin Herman ran the ball in from a yard out and the home team's lead grew to 10-0.
The Tigers got on the scoreboard with a safety when Cody Crook tackled running back Kevin Mulumba in the end zone with 10:20 remaining in the second quarter.
With 4:53 left before the half, freshman quarterback Drew Seaman (pictured at right), making his first collegiate start, hit junior tight end Bobby Coburn with a 15-yard touchdown pass. The extra point made it a 10-9 game, with OWU still on top.
The Seaman-to-Coburn connection worked again with 2:07 to go before the break, this time from 31 yards out. Seaman hit D.J. Steward with a pass to successfully complete the two point conversion, and the Tigers took a 17-10 lead to the locker room.
Just 54 seconds into the second half, DePauw's Matt Johnson intercepted a Mason Espinoza pass and rumbled in from 36 yards out for a touchdown, and the Tiger lead grew to 24-10.
With 5:59 to go in the third, Seaman found Steward with a 12-yard TD pass,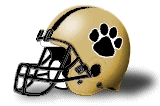 and the DePauw lead was 21 points.
Eric Malm's 33-yard field goal with 9:16 left in the game was the day's final scoring play.
Seaman completed 17 of 27 passes on the afternoon for 166 yards and three touchdowns, along with one interception. The Tiger rushing attack was led by Nikko Sansone, who picked up 62 yards on 11 carries. Armani Cato had 18 carries for 51 yards. Nine Tiger receivers made catches. Steward had four receptions for 34 yards and a TD, while Anthony Meek made 3 grabs for 18 yards.
The teams met for the 26th time, but first since 1991. The Battling Bishops lead the all-time series 17-7-1. It was DePauw's first win in the series since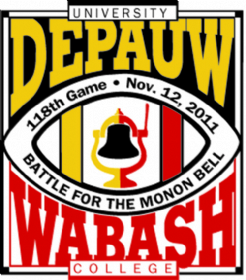 a 32-14 victory in 1975.
Next up for the Tigers is a trip to Sherman, Texas, next Saturday for a game with Austin College.
For comprehensive coverage of today's game and historical information, visit the football team's official online page.
DePauw's ticket distribution for the 118th Monon Bell Classic will begin on Monday. Details can be found in this story.
Pre-orders and now being accepted for the 2011 Monon Bell Classic DVD. The annual rivalry contest with Wabash College is set for November 12 at Blackstock Stadium. Learn more, and place an online order, by clicking here.
Back