'ArtsFest 2011: Art & Truth' Begins Sunday
October 24, 2011
Also: ArtsFest 2011 Information; Schedule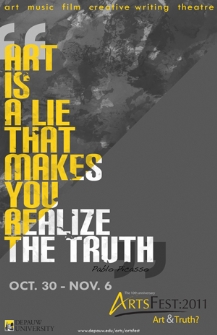 October 24, 2011, Greencastle, Ind. — DePauw University's tenth annual celebration of the arts, ArtsFest, will begin Sunday, October 30, and continue through Sunday, November 6. The theme of the 2011 ArtsFest is "Art & Truth?," and the wide range of University-sponsored programs -- which showcase the artistic talents of the DePauw and Greencastle communities -- are free and open to the public.
"Art & Truth?" encourages participants to consider the truth of stories, science and the human condition through artistic works. Participants are invited to analyze the relationship between art and truth.
The week-long celebration willinclude performances by students, faculty, staff, local residents, and visiting guests, and offers ample opportunities for audience participation.
Things kick off Sunday afternoon, from 12:30 to 4 p.m., with the annual "Art Attack." The program, which allows local children to interact with DePauw students in the creation of art projects, takes place in the Great Hall of the Green Center for the Performing Arts.
Music lovers are invited to enjoy a 3 p.m. Sunday performance by the DePauw Orchestra, which will
examine questions of art and truth.
The week's highlights include a November 2 reading by award-winning author Antonya Nelson, presented as part of DePauw's Kelly Writers Series. There will be showings of the films Catfish, David Holzman's Diary, and F is for Fake, and an Insomniac Theater performance.
Also on tap are a series of "brown bag" lunch discussions which will focus on art-related topics in its many volumes.
Saturday brings an 8 p.m. performance by Tad Robinson and the Average House Band, which will take place at the Inn at DePauw.
ArtsFest concludes Sunday, November 6, with a 3 p.m. Percussion Plus Project concert. The program, which takes place in the Green Center's Kresge Auditorium, features the works of Lou Harrison and features soloists Carla Edwards (organ), Timothy Kantor (violin) and Anne Reynolds (flute).
A complete schedule of ArtsFest 2011 events is available by clicking here.
Back