Local Kids Invited to Sunday's 'Art Attack'
October 25, 2011
Also: ArtsFest 2011 Information; Schedule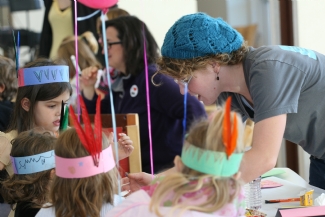 October 25, 2011, Greencastle, Ind. — Putnam County children and their families are invited to help kick off DePauw University's 2011 ArtsFest this Sunday, October 30, by joining in "Art Attack." Supported by DePauw student organizations, the event provides opportunities for local youngsters to collaborate with DePauw undergraduates on a variety of art-related activities.
Art Attack will take place from 12:30 p.m. to 4 p.m. in the Great Hall of the Judson and Joyce Green Center for the Performing Arts. It's free and open to all.
The event will include workshops and activities such as a youth songwriting workshop at 2 p.m. Suggested for ages 7-12, the session will be led by Folk singer and songwriter Bobbie Lancaster.
A "musical petting zoo" will be available for children, as well, offering opportunities for young guests to play with different instruments, including participation in a drum circle.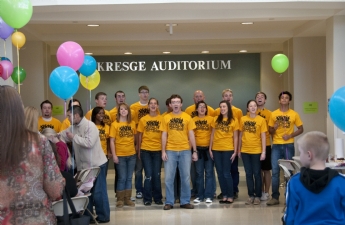 Tours of the set and backstage at Moore Theatre will also be available.
Throughout the event, there will be performances by Lancaster, DePauwCappella, and DePauw Jazz Ensemble. DePauw's student radio station, WGRE, will broadcast live from 1 - 3 p.m. offering opportunities for children to be on the air.
DePauw's tenth annual celebration of the arts, ArtsFest, will begin Sunday, October 30, and continue through Sunday, November 6. The theme of the 2011 ArtsFest is "Art & Truth?". Learn more in this story.
You're also invited to contact (765) 658-4485 or sarahmcadams@depauw.edu. If interested in participating in a table activity, contact arts@depauw.edu.
Back