Prof. Jeff McCall '76 Discusses President Obama's Tonight Show Appearance
October 25, 2011
October 25, 2011, Greencastle, Ind. — "President Obama is trying to reignite the charismatic persona he so magically presented when he was candidate Obama," Jeff McCall, professor of communication at DePauw University, tells the Christian Science Monitor of the president's scheduled appearance on NBC's Tonight Show this evening. Gloria Goodale notes that Obama was Jay Leno's guest three times before, but only once as president. She writes, "The problem now, (McCall) adds, is that Obama is not a candidate, he is the president."
The piece continues, " 'Performance matters more now than personality,' and late-night comedy shows lend themselves to displaying personality and not executive performance. Mr. Leno 'is not a journalist or public-affairs expert, and his conversation with the president just can't help the president in advancing any serious policy initiative,' Professor McCall adds."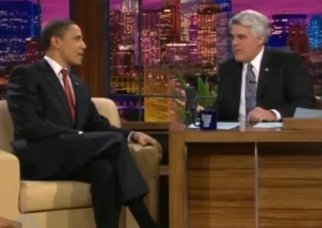 Access the complete article -- headlined "President Obama on The Tonight Show: A good move?" -- at the publication's website.
A 1976 graduate of DePauw, Jeffrey M. McCall is frequently called upon by major news outlets to discuss media matters and has been quoted in more than 100 newspapers, including a recent citation in the Washington Post.
The professor is the author of Viewer Discretion Advised: Taking Control of Mass Media Influences and serves as faculty adviser to student radio station WGRE.
Back