HDNet Gears Up for Its Seventh National Telecast of the Monon Bell Classic
October 29, 2011
Also: Ticket Information; Order Monon Bell Classic DVDs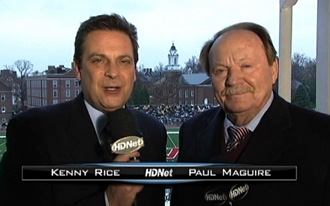 October 29, 2011, Greencastle, Ind. — The 2011 HDNet broadcast team for the Monon Bell Classic will return play-by-play announcer Kenny Rice and veteran analyst and former NFL player Paul Maguire to the booth, with Brad Wochomurka, a 2004 DePauw University graduate and former Tiger football player, providing updates from the sidelines. Kickoff for the 118th meeting between DePauw and Wabash College in one of college football's oldest and closest rivalries is set for 1:07 p.m. on November 12 at Blackstock Stadium.
HDNet has televised the last five Wabash-DePauw contests (2006-10) and also covered the 200

3 game.

[Download Video: "Ballad of the Monon Bell - 2007 Version" - 10,419kb]

[Download Audio: "Ballad of the Monon Bell - Stereo" - 2514kb]
Kenny Rice will call his sixth Monon Bell Classic. He is a veteran sportscaster, having also worked with NBC, ESPN, and FSN at various times during his career. He has covered numerous college football, basketball, and baseball games and served as a boxing reporter at the 2004 Olympic Games and an equestrian reporter during the 2008 Olympics. Rice has also been a reporter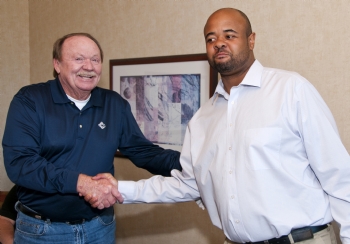 for NBC's Football Night in America covering weekly NFL games. Rice has done play-by-play for HDNet since 2003. (at left: Maguire with DePauw head coach Robby Long)

[Download Video: "1955 Monon Memory" - 6739kb]
Paul Maguire, whose résumé includes covering four Super Bowls (XXII, XXIII, XXVII and XXX), has been broadcasting for more than 40 years. He served as a member of NBC's lead NFL broadcast team with Dick Enberg, provided color commentary for ESPN's NFL Sunday Night Football, and worked as an analyst for college football on ABC. Maguire had an 11-year professional football career as a punter and linebacker for the San Diego Chargers (1960-63) and Buffalo Bills (1964-70), during which time he played in six American Football League championship games. He was a member of three AFL championship teams (1963-65), and was named to the Bills' Silver
Anniversary All-Time Team as a punter in 1984. Maguire is one of only 20 players who were in the AFL for its entire 10 season existence. He is a member of the Greater Buffalo Sports Hall of Fame.

[Download Video: "2007 Monon Memory" - 7808kb]
Brad Wochomurka returns for a second season as DePauw's sideline reporter on HDNet's Monon Bell telecast. Brad was a communications major and Media Fellow at DePauw where he played wide receiver for legendary football coach Nick Mourouzis. As a broadcaster, Brad has covered numerous professional and college sporting events and spent time as a drive-time sports talk radio host. He continues to work as a freelance broadcaster while serving as a partner relationship manager for ExactTarget, an interactive marketing agency in Indianapolis.
This year's game will again be seen in homes and retail establishments across America on the high definition network HDNet, and there will again be telecast parties arranged by DePauw and Wabash alumni.

[Download Video: "2000 Monon Memory" - 3239kb]
Launched in 2001, the HDNet networks are available in the U.S. via AT&T U-verse, Charter, Comcast, DIRECTV, DISH Network, Insight, and Verizon FiOS and in Canada via Access Communications, Cogeco, Shaw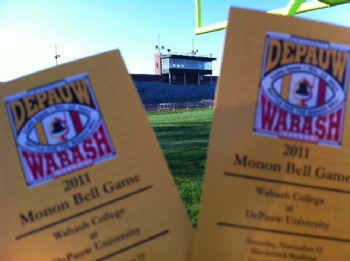 Cable and Shaw Direct. Visit the network online.
Monon Bell Classic tickets for the DePauw side of Blackstock Stadium became available this week. Details can be found in this article.
Wabash leads the all-time series 55-53-9, while DePauw leads in games played for the Monon Bell by a 37-36-6 count. Voted Indiana's "best sports rivalry" by visitors to ESPN.com, the Monon Bell Classic has been televised by ABC and ESPN2 and has been the subject of features in Sports Illustrated and USA Today and on Charles Kuralt's CBS Sunday Morning.
"Rivalries don't get any closer than this," Mark Cuban, president and co-founder of HDNet, has stated, "and the Monon Bell is a truly special event."
A complete roster of "Monon Memories" -- video highlights of past classics -- can be found here.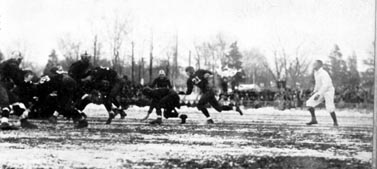 Pre-orders and now being accepted for the 2011 Monon Bell Classic DVD, which will include this year's contest and a range of bonus material, including photo galleries and historic clips from past games. Learn more, and place an online order, by clicking here. Also available are the DVDs of the 1977, 1994 and 2000-10 Monon Bell Classics (supplies of past games are extremely limited; the 2008 package is a two-disc set including all 115 "Monon Memories" produced to that date). (photo: 1932 Monon Bell Classic;

[Download Video: "1932 Monon Memory" - 3518kb])
Complete game day information will be available here.
Back