Working Mother Includes Advice from Psychology Prof. Sharmin Tunguz
October 28, 2011
October 28, 2011, Greencastle, Ind. — "Is your little green monster rearing its ugly head over your colleague's promotion?," asks an item published in the November 2011 issue of Working Mother magazine. "It's natural to want the recognition yourself, but it's also important (and emotionally healthy!) to celebrate other women's successes rather than envy them, says Sharmin Tunguz, Ph.D., associate professor of psychology at DePauw University in Greencastle, IN."
Appearing on page 31 of the magazine and online via this link, the piece offers tips, including "offer compliments" and "befriend, don't belittle."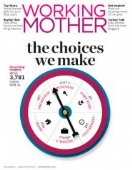 The November issue is now arriving on newsstands.
Dr. Tunguz contributed to a National Public Radio affiliate's report in July. Learn more in this previous article.
A native of Karachi, Pakistan, Professor Tunguz earned her Ph.D. from University of Illinois at Urbana-Champaign. Her research interests include emotional labor, organizational justice, and customer service. Her work has appeared in the Journal of Applied Psychology and Journal of Management.
Back