Tigers #10 in Preseason Women's Basketball Poll
November 2, 2011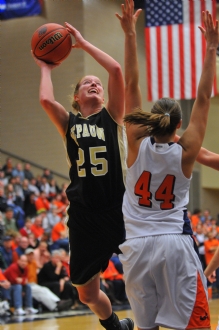 November 2, 2011, Greencastle, Ind. — DePauw University's women's basketball team is ranked 10th by D3hoops.com in its preseason Division III poll. The Tigers picked up 308 points in the survey, which is led by last year's national champion, Amherst College, with 593 points.
See the poll at the website of the Pittsburgh Tribune-Review.
"The Tigers are hoping to have the same success in their new conference that they did in their old one," notes D3hoops. "After going 15-1 in the SCAC last season, DePauw shifts to the NCAC where the Tigers will have ... two games with No. 12 Denison. DePauw returns its top scorer from last year, forward Katie Aldrich, but loses its two top scorers at guard. Forward Ellie Pearson, who averaged 8.7 points and 8.7 rebounds per game last year,

brings toughness on the glass. She may have to score more this year to lighten Aldrich's burden. Once the Tigers get through their usual tough non-conference slate, they'll have some time to build a new identity in the NCAC and prepare for an NCAA tournament run."
Read more here.
The Tigers, the 2006-07 national champions, open their 2011-12 season November 18 versus Albion in the Franklin Tipoff tournament. You'll find more information at the team's official online page.
Back