Nobel Laureate Ferid Murad '58 Discusses "Beauty of Science" in Nature Magazine
October 19, 2011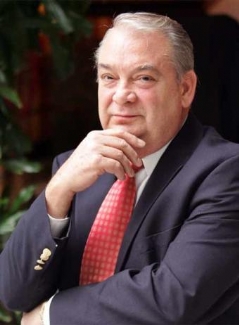 October 19, 2011, Greencastle, Ind. — "I'm a workaholic. I love science. I think about it almost all the time," Ferid Murad, M.D., Ph.D., tells Nature magazine. "Even when I try to relax: watching TV or doing something else, I can only do that for 5 to 15 minutes, then I get distracted thinking about experiments," adds Dr. Murad, a 1958 graduate of DePauw University who received the Nobel Prize in 1998 for his research on nitric oxide. (photo by Bernardo Pérez)
"Scientists by nature have to be curious to answer questions of nature -- to discover how things work," says the biochemist, who is a university professor at George Washington University's School of Medicine and Health Sciences. "The beauty of science is that once you've answered a question, that leads to further questions, sometimes more important ones. Doctors are taught scientific enquiry in medical school, but it's not required that they be scientists. Yet if they are taught this well, it should improve their skills."
The Nobel laureate continues, "Science is about seeking the truth. The existence of god is irrelevant to a scientist, as is his or her faith. It is possible to have faith and be a scientist at same time; it is also possible to be an atheist and a scientist at the same time. There are some researchers, however, whose faith and religion tend to distort the facts. That's not going to lead to high-quality science ... Science is all about getting to the facts -- to information: how creatures are 'created' and evolve, including on other planets too where
there could be life. Extra-terrestrial life will be interesting to prove one way or another. There are so many thousands of planets in this galaxy that ours can't be the only one to develop life."
Access the complete piece, which appears in Nature's October 13 issue, by clicking here.
Scientific American also features Dr. Murad this month.
Ferid Murad delivered the golden anniversary address to his Class of 1958 at DePauw's Alumni Celebration on June 14, 2008, in which he expressed his concern that the United States "may be starting to lose the race" in science and technology. A brief summary of his remarks and a link to an MP3 file of the complete speech can be found in this story.
On April 23, 1999, Murad presented an Ubben Lecture at his alma mater. A summary and video clip are available here.
Back