DePauw & Wabash Presidents Point to "Special Rite of Fall" in Advance of Tomorrow's Monon Bell Classic
November 11, 2011
Also: Monon Bell Page; HDNet Telecast Information; See 'Monon Memories'; Order Monon Bell Classic DVDs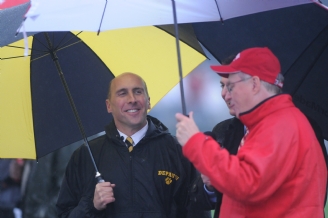 November 11, 2011, Greencastle, Ind. — "The annual Monon Bell Classic is a rite of fall on both campuses and for the alumni and friends of our institutions," write the presidents of DePauw University and Wabash College in a joint letter to fans of the annual football rivalry. DePauw's Brian W. Casey and Wabash's Pat White add, "It is special; it is something we all eagerly anticipate each November and talk about for years after." (at left: Presidents Casey and White at last year's Monon Bell game)
The letter is published in today's edition of The DePauw and also appears in the Wabash student newspaper, The Bachelor.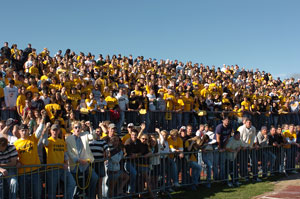 "For three hours this weekend, student-athletes from our two schools will engage in a game that will determine possession of the coveted Monon Bell for the next year," the presidents note. "As we cheer and show pride for our respective colleges, we should also take time to celebrate the thing we share: a long history of educating people who have shaped their communities, their nations, and the world."
Drs. Casey and White call on fans to display "hospitality and respect" at tomorrow's game, which will be seen by a national television audience, including "a great many viewers who will be learning about our colleges and, in some cases, making first impressions.
"This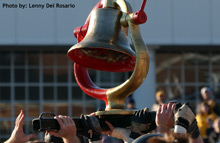 football game matters to both sides, but even more important is the relationship and tradition that we are all, each of us, charged with the responsibility of enhancing and protecting. We are sending this message in hopes that you will join us in honoring the tradition that started in 1890. One team will leave Blackstock with the Bell on Saturday afternoon, but all of us should leave with pride in an event that has a long and rich history and is the envy of many other colleges. We look forward to cheering with you Saturday."
The complete letter is available by clicking here.
Tomorrow's game is sold out, and a crowd of more than 8,000 will gather for the 1:07 p.m. kickoff. The game will be seen nationally on HDNet, with the high definition telecast beginning at 1 p.m. The network is available in millions of homes,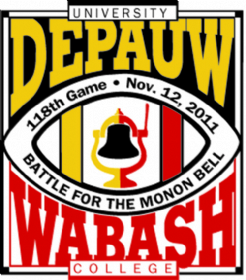 and many fans will again attend telecast parties across the USA, which are arranged by DePauw and Wabash alumni.
One of the nation's oldest and closest college football rivalries, this will mark the 118th gridiron meeting between DePauw and Wabash (the first was in 1890) and the 80th for possession of the Monon Bell (which became the winner's prize in 1932). Wabash leads the all-time series 55-53-9, while DePauw leads in games played for the Monon Bell by a 37-36-6 count.
A complete roster of "Monon Memories" -- video highlights of past classics -- can be found here.
Pre-orders and now being accepted for the 2011 Monon Bell Classic DVD, which will include this year's contest and a range of bonus material, including photo galleries and historic clips from past games. Learn more, and place an online order, by clicking here.
Complete game day information is available here.
Back