DePauw Improves to 3-0 with 205-89 Win over Wabash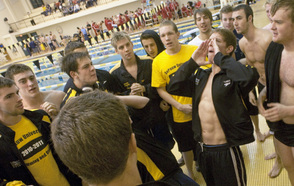 November 9, 2011
November 9, 2011, Greencastle, Ind. — DePauw improved to 3-0 with a 205-89 win over visiting Wabash. The Little Giants dropped to 1-2 with the loss.
The Tigers opened the meet by taking the top two spots in the 200-yard medley relay with George Morrison, Matt Gleason, John Montgomery and Alex Alfonso winning in 1:36.61.
Casey Hooker followed that up with a win in the 1000 freestyle as he broke the 13-year old Erdmann Nataorium record in 9:41.77.
Montgomery led the way in the 200 free in 1:46.64 before Morrison added a win in the 100 backstroke in 54.41 seconds and Jordan Bantista took the 100 breaststroke in 1:00.62.
Gleason won the 200 butterfly in 1:56.04 and later the 100 fly in 51.88 and the 200 individual medley in 1:59.60. Alfonso was a 50-free winner in 21.69 and took the 100 free in 47.67.
Bantista also won the 200 breast in 2:12.23 before Hooker picked up another first in the 500 free in 4:40.35.
The Tigers wrapped up the meet by going one-two in the 400 free relay with Hooker, Matt Bacinich, Montgomery and Alfonso winning in 3:10.97.
Wabash's wins came from Jake Schild with 183.35 points in one-meter diving and 208.40 on the three-meter board with Aaron Troyer taking first in the 200 back in 1:59.40.
In all, the Tigers finished one-two-three in five events.
DePauw returns to action on Friday, November 18, when it hosts Wheaton (Ill.) at 6 p.m.
 
Licensed to DePauw University      HY-TEK's MEET MANAGER 4.0 11/9/2011 09:20 PM
                    DePauw vs Wabash Dual 2011 - 11/9/2011                     
                          DePauw vs Wabash Dual 2011                           
                                    Results                                    
 
Event 2  Men 200 Yard Medley Relay
===============================================================================
    School                                               Seed     Finals Points 
===============================================================================
  1 DePauw University  'A'                                 NT    1:36.61   11  
     1) Morrison, George G 18           2) Gleason, Matt P 18             
     3) Montgomery, Johnny R 20         4) Alfonso, Alex I 18             
                  25.58       52.03 (26.45)     1:15.58 (23.55)     1:36.61 (21.03)
  2 DePauw University  'B'                                 NT    1:38.49    4  
     1) Wiethoff, Cameron 18            2) Hessburg, Joe D 18             
     3) Bacinich, Matt S 18             4) Burgeson, Jack 18              
                  26.03       53.41 (27.38)     1:16.95 (23.54)     1:38.49 (21.54)
  3 Wabash College-IN  'A'                            1:39.47    1:39.48    2  
     1) Troyer, Aaron L                 2) Buescher, Paul T 21            
     3) Adams, Carter D                 4) Beck, Alex P 20                
                  25.56       53.28 (27.72)     1:17.40 (24.12)     1:39.48 (22.08)
  4 Wabash College-IN  'B'                                 NT    1:43.08  
     1) Williams, Charles E             2) Schramm, Matt J                
     3) Batchelder, Steve C             4) Rice, Logan C 20               
                  26.66       56.03 (29.37)     1:20.89 (24.86)     1:43.08 (22.19)
  5 DePauw University  'C'                                 NT   x1:43.20  
     1) Ercoli, Chris 18                2) Nash, Andrew 4                 
     3) Hafling, Erich R 18             4) Johnson, Cam M 18              
                  26.50       55.11 (28.61)     1:20.70 (25.59)     1:43.20 (22.50)
  6 DePauw University  'D'                                 NT   x1:43.22  
     1) Gerhardstein, Chris J 19        2) Mullins, Nathan 4              
     3) Strubbe, J.R. R 17              4) Flores, Brendan 5              
                  27.54       55.28 (27.74)     1:20.69 (25.41)     1:43.22 (22.53)
  7 Wabash College-IN  'C'                                 NT   x1:50.67  
     1) Wise, Brad M 20                 2) Nemeth, Mike A                 
     3) Falley, Logan S 21              4) Fouts, Matt D                  
                  29.07     1:00.40 (31.33)     1:19.09 (18.69)     1:50.67 (31.58)
 
Event 4  Men 1000 Yard Freestyle
===============================================================================
    Name                     Age School                  Seed     Finals Points 
===============================================================================
  1 Hooker, Casey A           19 DPU                       NT    9:41.77    9  
                  24.45       51.83 (27.38)     1:20.23 (28.40)     1:49.18 (28.95)
        2:18.46 (29.28)     2:47.88 (29.42)     3:17.42 (29.54)     3:47.18 (29.76)
        4:16.72 (29.54)     4:46.69 (29.97)     5:16.26 (29.57)     5:45.85 (29.59)
        6:15.48 (29.63)     6:45.37 (29.89)     7:15.14 (29.77)     7:45.02 (29.88)
        8:14.78 (29.76)     8:44.60 (29.82)     9:14.27 (29.67)     9:41.77 (27.50)
  2 Phillips, David G         19 Wabash-IN           10:12.00   10:15.10    4  
                  26.29       55.59 (29.30)     1:25.01 (29.42)     1:54.75 (29.74)
        2:24.32 (29.57)     2:54.95 (30.63)     3:25.50 (30.55)     3:56.38 (30.88)
        4:27.59 (31.21)     4:59.08 (31.49)     5:30.27 (31.19)     6:01.89 (31.62)
        6:33.60 (31.71)     7:05.38 (31.78)     7:37.14 (31.76)     8:09.02 (31.88)
        8:40.81 (31.79)     9:12.78 (31.97)     9:43.58 (30.80)    10:15.10 (31.52)
  3 Chorpenning, Andy R          Wabash-IN           10:20.08   10:26.03    3  
                  27.64       58.20 (30.56)     1:29.40 (31.20)     2:01.07 (31.67)
        2:32.68 (31.61)     3:04.36 (31.68)     3:35.94 (31.58)     4:07.82 (31.88)
        4:39.86 (32.04)     5:11.84 (31.98)     5:43.40 (31.56)     6:15.30 (31.90)
        6:47.25 (31.95)     7:18.97 (31.72)     7:50.88 (31.91)     8:22.40 (31.52)
        8:54.20 (31.80)     9:25.90 (31.70)     9:57.64 (31.74)    10:26.03 (28.39)
  4 Curts, Mike M             19 DPU                       NT   10:26.53    2  
                  27.15       57.49 (30.34)     1:28.04 (30.55)     1:59.07 (31.03)
        2:29.89 (30.82)     3:01.07 (31.18)     3:32.26 (31.19)     4:03.61 (31.35)
        4:35.13 (31.52)     5:06.80 (31.67)     5:38.50 (31.70)     6:10.25 (31.75)
        6:42.31 (32.06)     7:14.70 (32.39)     7:46.72 (32.02)     8:19.36 (32.64)
        8:52.12 (32.76)     9:24.73 (32.61)     9:54.31 (29.58)    10:26.53 (32.22)
  5 Strader, Storm K          18 DPU                       NT   10:32.42    1  
                  27.02       56.95 (29.93)     1:27.64 (30.69)     1:58.85 (31.21)
        2:30.28 (31.43)     3:01.62 (31.34)     3:33.41 (31.79)     4:05.21 (31.80)
        4:37.14 (31.93)     5:09.17 (32.03)     5:41.22 (32.05)     6:13.63 (32.41)
        6:46.10 (32.47)     7:18.58 (32.48)     7:51.05 (32.47)     8:23.24 (32.19)
        8:55.55 (32.31)     9:28.03 (32.48)    10:00.92 (32.89)    10:32.42 (31.50)
  6 Harris, Brad J            19 DPU                       NT  x10:39.49  
                  27.44       57.77 (30.33)     1:28.71 (30.94)     2:00.38 (31.67)
        2:32.38 (32.00)     3:04.65 (32.27)     3:36.84 (32.19)     4:08.79 (31.95)
        4:41.13 (32.34)     5:13.42 (32.29)     5:45.83 (32.41)     6:18.46 (32.63)
        6:50.97 (32.51)     7:23.92 (32.95)     7:56.50 (32.58)     8:29.47 (32.97)
        9:02.33 (32.86)     9:35.34 (33.01)    10:07.92 (32.58)    10:39.49 (31.57)
  7 Barnes, Adam F            19 Wabash-IN           10:40.11   10:45.28  
                  27.96       58.16 (30.20)     1:29.28 (31.12)     2:01.15 (31.87)
        2:33.22 (32.07)     3:05.39 (32.17)     3:37.70 (32.31)     4:10.35 (32.65)
        4:43.43 (33.08)     5:16.43 (33.00)     5:49.22 (32.79)     6:21.86 (32.64)
        6:54.95 (33.09)     7:28.37 (33.42)     8:01.93 (33.56)     8:35.08 (33.15)
        9:07.73 (32.65)     9:40.43 (32.70)    10:13.36 (32.93)    10:45.28 (31.92)
 
Event 6  Men 200 Yard Freestyle
===============================================================================
    Name                     Age School                  Seed     Finals Points 
===============================================================================
  1 Montgomery, Johnny R      20 DPU                       NT    1:46.64    9  
                  24.15       51.36 (27.21)     1:19.23 (27.87)     1:46.64 (27.41)
  2 Haeske, Matt R            18 DPU                       NT    1:47.63    4  
                  25.34       52.56 (27.22)     1:20.37 (27.81)     1:47.63 (27.26)
  3 Klossner, Dylan            5 DPU                       NT    1:49.55    3  
                  25.39       53.68 (28.29)     1:21.48 (27.80)     1:49.55 (28.07)
  4 Hawkins, Alex N           18 Wabash-IN            1:50.83    1:52.27    2  
                  25.76       53.85 (28.09)     1:23.00 (29.15)     1:52.27 (29.27)
  5 Fouts, Matt D                Wabash-IN            1:57.46    1:54.96    1  
                  26.92       55.34 (28.42)     1:25.29 (29.95)     1:54.96 (29.67)
  6 Falley, Logan S           21 Wabash-IN            1:56.70    1:57.58  
                  26.99       56.71 (29.72)     1:27.23 (30.52)     1:57.58 (30.35)
 
Event 8  Men 100 Yard Backstroke
===============================================================================
    Name                     Age School                  Seed     Finals Points 
===============================================================================
  1 Morrison, George G        18 DPU                       NT      54.41    9  
                  26.85       54.41 (27.56)                                        
  2 Troyer, Aaron L              Wabash-IN              54.81      54.55    4  
                  26.88       54.55 (27.67)                                        
  3 Wiethoff, Cameron         18 DPU                       NT      55.70    3  
                  26.89       55.70 (28.81)                                        
  4 Ercoli, Chris             18 DPU                       NT      56.90    2  
                  27.97       56.90 (28.93)                                        
  5 Gerhardstein, Chris J     19 DPU                       NT     x57.52  
                  27.98       57.52 (29.54)                                        
  6 Batchelder, Steve C          Wabash-IN                 NT      58.95    1  
                  28.82       58.95 (30.13)                                        
  7 Hardcastle, Tyler J          Wabash-IN                 NT    1:08.93  
                  33.77     1:08.93 (35.16)                                        
 
Event 10  Men 100 Yard Breaststroke
===============================================================================
    Name                     Age School                  Seed     Finals Points 
===============================================================================
  1 Bantista, Jordan C        19 DPU                       NT    1:00.62    9  
                  28.44     1:00.62 (32.18)                                        
  2 Smith, Tom D              20 DPU                       NT    1:02.15    4  
                  29.26     1:02.15 (32.89)                                        
  3 Hessburg, Joe D           18 DPU                       NT    1:02.31    3  
                  29.03     1:02.31 (33.28)                                        
  4 Buescher, Paul T          21 Wabash-IN            1:02.75    1:02.85    2  
                  29.76     1:02.85 (33.09)                                        
  5 Mullins, Nathan            4 DPU                       NT   x1:03.65  
                  29.22     1:03.65 (34.43)                                        
  6 Schramm, Matt J              Wabash-IN            1:04.60    1:06.81    1  
                  31.26     1:06.81 (35.55)                                        
  7 Nemeth, Mike A               Wabash-IN            1:09.29    1:09.38  
                  32.56     1:09.38 (36.82)                                        
  8 Rice, Logan C             20 Wabash-IN            1:13.38   x1:10.29  
                  33.39     1:10.29 (36.90)                                        
 
Event 12  Men 200 Yard Butterfly
===============================================================================
    Name                     Age School                  Seed     Finals Points 
===============================================================================
  1 Gleason, Matt P           18 DPU                       NT    1:56.04    9  
                  25.83       55.34 (29.51)     1:25.55 (30.21)     1:56.04 (30.49)
  2 Adams, Carter D              Wabash-IN            2:02.28    1:59.48    4  
                  26.37       56.12 (29.75)     1:27.04 (30.92)     1:59.48 (32.44)
  3 Hiller, Tommy C           18 DPU                       NT    2:00.20    3  
                  26.41       56.12 (29.71)     1:27.37 (31.25)     2:00.20 (32.83)
  4 Chorpenning, Andy R          Wabash-IN            2:07.47    2:06.54    2  
                  28.49     1:01.15 (32.66)     1:34.58 (33.43)     2:06.54 (31.96)
  5 Strubbe, J.R. R           17 DPU                       NT    2:07.42    1  
                  27.13       57.91 (30.78)     1:32.58 (34.67)     2:07.42 (34.84)
  6 Wise, Brad M              20 Wabash-IN            2:14.31    2:11.79  
                  29.31     1:02.97 (33.66)     1:37.27 (34.30)     2:11.79 (34.52)
  7 Flores, Brendan            5 DPU                       NT   x2:12.19  
                  27.49       59.02 (31.53)     1:33.60 (34.58)     2:12.19 (38.59)
  8 Hafling, Erich R          18 DPU                       NT   x2:17.83  
                  28.37     1:01.99 (33.62)     1:38.95 (36.96)     2:17.83 (38.88)
 
Event 14  Men 50 Yard Freestyle
===============================================================================
    Name                     Age School                  Seed     Finals Points 
===============================================================================
  1 Alfonso, Alex I           18 DPU                       NT      21.69    9  
  2 Bacinich, Matt S          18 DPU                       NT      21.93    4  
  3 Burgeson, Jack            18 DPU                       NT      22.31    3  
  4 Nash, Andrew               4 DPU                       NT     x22.52  
  5 Williams, Charles E          Wabash-IN              24.11      22.90    2  
  6 Beck, Alex P              20 Wabash-IN              22.69      22.93    1  
  7 Johnson, Cam M            18 DPU                       NT     x23.05  
  8 Hawkins, Alex N           18 Wabash-IN                 NT      23.43  
  9 Alter, Jacob D            19 Wabash-IN                 NT     x24.32  
 10 Buescher, Paul T          21 Wabash-IN                 NT     x26.42  
 
Event 16  Men 1 mtr Diving
===============================================================================
    Name                     Age School                  Seed     Finals Points 
===============================================================================
  1 Schild, Jake J            20 Wabash-IN             211.40     183.35    9  
  2 Anderson, Jacob R         20 Wabash-IN             174.85     182.95    4  
  3 Contreras, Dean            5 DPU                       NP     159.05    3  
 
Event 18  Men 100 Yard Freestyle
===============================================================================
    Name                     Age School                  Seed     Finals Points 
===============================================================================
  1 Alfonso, Alex I           18 DPU                       NT      47.67    9  
                  22.43       47.67 (25.24)                                        
  2 Montgomery, Johnny R      20 DPU                       NT      48.65    4  
                  23.00       48.65 (25.65)                                        
  3 Burgeson, Jack            18 DPU                       NT      49.48    3  
                  23.79       49.48 (25.69)                                        
  4 Beck, Alex P              20 Wabash-IN              49.73      50.12    2  
                  23.99       50.12 (26.13)                                        
  5 Klossner, Dylan            5 DPU                       NT     x50.26  
                  24.33       50.26 (25.93)                                        
  6 Hessburg, Joe D           18 DPU                       NT     x50.30  
                  24.10       50.30 (26.20)                                        
  7 Johnson, Cam M            18 DPU                       NT     x50.36  
                  24.20       50.36 (26.16)                                        
  8 Curts, Mike M             19 DPU                       NT     x50.87  
                  24.39       50.87 (26.48)                                        
  9 Fouts, Matt D                Wabash-IN              52.14      53.06    1  
                  25.57       53.06 (27.49)                                        
 10 Alter, Jacob D            19 Wabash-IN                 NT      53.25  
                  25.62       53.25 (27.63)                                        
 11 Hardcastle, Tyler J          Wabash-IN              58.19     x57.60  
                  27.28       57.60 (30.32)                                        
 
Event 20  Men 200 Yard Backstroke
===============================================================================
    Name                     Age School                  Seed     Finals Points 
===============================================================================
  1 Troyer, Aaron L              Wabash-IN            1:58.98    1:59.40    9  
                  27.62       57.82 (30.20)     1:28.51 (30.69)     1:59.40 (30.89)
  2 Morrison, George G        18 DPU                       NT    1:59.51    4  
                  28.26       58.83 (30.57)     1:29.98 (31.15)     1:59.51 (29.53)
  3 Williams, Charles E          Wabash-IN                 NT    2:00.87    3  
                  28.45       58.77 (30.32)     1:30.26 (31.49)     2:00.87 (30.61)
  4 Wiethoff, Cameron         18 DPU                       NT    2:03.61    2  
                  27.72       58.61 (30.89)     1:30.75 (32.14)     2:03.61 (32.86)
  5 Gerhardstein, Chris J     19 DPU                       NT    2:04.77    1  
                  29.67     1:00.49 (30.82)     1:32.50 (32.01)     2:04.77 (32.27)
  6 Barnes, Adam F            19 Wabash-IN            2:08.71    2:07.57  
                  31.10     1:03.34 (32.24)     1:35.91 (32.57)     2:07.57 (31.66)
  7 Harris, Brad J            19 DPU                       NT   x2:07.92  
                  29.98     1:02.20 (32.22)     1:35.38 (33.18)     2:07.92 (32.54)
  8 Ercoli, Chris             18 DPU                       NT   x2:09.94  
                  29.77     1:03.14 (33.37)     1:37.85 (34.71)     2:09.94 (32.09)
 
Event 22  Men 200 Yard Breaststroke
===============================================================================
    Name                     Age School                  Seed     Finals Points 
===============================================================================
  1 Bantista, Jordan C        19 DPU                       NT    2:12.23    9  
                  29.41     1:02.33 (32.92)     1:36.96 (34.63)     2:12.23 (35.27)
  2 Smith, Tom D              20 DPU                       NT    2:16.12    4  
                  31.52     1:05.93 (34.41)     1:41.02 (35.09)     2:16.12 (35.10)
  3 Batchelder, Steve C          Wabash-IN            2:18.50    2:16.54    3  
                  30.64     1:05.42 (34.78)     1:41.02 (35.60)     2:16.54 (35.52)
  4 Buescher, Paul T          21 Wabash-IN            2:22.36    2:23.81    2  
                  32.28     1:10.04 (37.76)     1:49.03 (38.99)     2:23.81 (34.78)
  5 Nash, Andrew               4 DPU                       NT    2:24.74    1  
                  31.40     1:07.75 (36.35)     1:46.09 (38.34)     2:24.74 (38.65)
  6 Mullins, Nathan            4 DPU                       NT   x2:25.86  
                  32.29     1:09.86 (37.57)     1:48.76 (38.90)     2:25.86 (37.10)
  7 Nemeth, Mike A               Wabash-IN            2:29.16    2:31.72  
                  34.55     1:12.67 (38.12)     1:51.94 (39.27)     2:31.72 (39.78)
 
Event 24  Men 500 Yard Freestyle
===============================================================================
    Name                     Age School                  Seed     Finals Points 
===============================================================================
  1 Hooker, Casey A           19 DPU                       NT    4:40.35    9  
                  24.32       51.26 (26.94)     1:19.49 (28.23)     1:48.04 (28.55)
        2:16.99 (28.95)     2:45.84 (28.85)     3:15.05 (29.21)     3:44.05 (29.00)
        4:12.86 (28.81)     4:40.35 (27.49)                                        
  2 Spichiger, Robby J        20 DPU                       NT    4:54.42    4  
                  26.89       56.31 (29.42)     1:26.42 (30.11)     1:56.49 (30.07)
        2:26.44 (29.95)     2:56.94 (30.50)     3:27.00 (30.06)     3:56.76 (29.76)
        4:25.98 (29.22)     4:54.42 (28.44)                                        
  3 Haeske, Matt R            18 DPU                       NT    4:55.34    3  
                  26.66       55.93 (29.27)     1:26.16 (30.23)     1:56.18 (30.02)
        2:26.72 (30.54)     2:57.10 (30.38)     3:27.28 (30.18)     3:57.25 (29.97)
        4:27.02 (29.77)     4:55.34 (28.32)                                        
  4 Phillips, David G         19 Wabash-IN            4:53.71    4:55.40    2  
                  26.40       56.10 (29.70)     1:26.48 (30.38)     1:56.53 (30.05)
        2:26.98 (30.45)     2:57.10 (30.12)     3:28.00 (30.90)     3:57.77 (29.77)
        4:28.05 (30.28)     4:55.40 (27.35)                                        
  5 Chorpenning, Andy R          Wabash-IN            5:02.45    5:09.07    1  
                  27.32       57.70 (30.38)     1:28.73 (31.03)     2:00.14 (31.41)
        2:31.58 (31.44)     3:03.25 (31.67)     3:34.73 (31.48)     4:06.38 (31.65)
        4:37.56 (31.18)     5:09.07 (31.51)                                        
  6 Perfitt, Tyler             4 DPU                       NT   x5:11.93  
                  27.36       57.84 (30.48)     1:29.35 (31.51)     2:00.81 (31.46)
        2:32.23 (31.42)     3:04.39 (32.16)     3:36.27 (31.88)     4:08.51 (32.24)
        4:40.78 (32.27)     5:11.93 (31.15)                                        
  7 Hiller, Tommy C           18 DPU                       NT   x5:13.86  
                  27.89       58.81 (30.92)     1:30.17 (31.36)     2:01.36 (31.19)
        2:33.39 (32.03)     3:05.65 (32.26)     3:37.78 (32.13)     4:10.32 (32.54)
        4:42.48 (32.16)     5:13.86 (31.38)                                        
  8 Falley, Logan S           21 Wabash-IN            5:20.01    5:18.48  
                  27.59       58.52 (30.93)     1:30.26 (31.74)     2:02.24 (31.98)
        2:34.61 (32.37)     3:07.50 (32.89)     3:40.47 (32.97)     4:13.71 (33.24)
        4:46.74 (33.03)     5:18.48 (31.74)                                        
 
Event 26  Men 100 Yard Butterfly
===============================================================================
    Name                     Age School                  Seed     Finals Points 
===============================================================================
  1 Gleason, Matt P           18 DPU                       NT      51.88    9  
                  24.64       51.88 (27.24)                                        
  2 Adams, Carter D              Wabash-IN              54.44      53.82    4  
                  25.16       53.82 (28.66)                                        
  3 Bacinich, Matt S          18 DPU                       NT      54.25    3  
                  24.95       54.25 (29.30)                                        
  4 Flores, Brendan            5 DPU                       NT      55.59    2  
                  25.92       55.59 (29.67)                                        
  5 Strubbe, J.R. R           17 DPU                       NT     x56.09  
                  26.05       56.09 (30.04)                                        
  6 Hawkins, Alex N           18 Wabash-IN              55.99      56.31    1  
  7 Wise, Brad M              20 Wabash-IN                 NT      57.63  
                  27.26       57.63 (30.37)                                        
  8 Hafling, Erich R          18 DPU                       NT     x59.67  
                  27.58       59.67 (32.09)                                        
 
Event 28  Men 3 mtr Diving
===============================================================================
    Name                     Age School                  Seed     Finals Points 
===============================================================================
  1 Schild, Jake J            20 Wabash-IN             185.05     208.40    9  
  2 Anderson, Jacob R         20 Wabash-IN             181.90     162.15    4  
  3 Contreras, Dean            5 DPU                       NP     130.55    3  
 
Event 30  Men 200 Yard IM
===============================================================================
    Name                     Age School                  Seed     Finals Points 
===============================================================================
  1 Gleason, Matt P           18 DPU                       NT    1:59.60    9  
                  25.39       56.93 (31.54)     1:31.13 (34.20)     1:59.60 (28.47)
  2 Bantista, Jordan C        19 DPU                       NT    2:01.91    4  
                  26.52       58.73 (32.21)     1:33.60 (34.87)     2:01.91 (28.31)
  3 Williams, Charles E          Wabash-IN                 NT    2:02.96    3  
                  25.37       56.37 (31.00)     1:33.69 (37.32)     2:02.96 (29.27)
  4 Wiethoff, Cameron         18 DPU                       NT    2:04.92    2  
                  27.25       58.86 (31.61)     1:35.04 (36.18)     2:04.92 (29.88)
  5 Batchelder, Steve C          Wabash-IN                 NT    2:05.13    1  
                  27.24     1:00.35 (33.11)     1:36.12 (35.77)     2:05.13 (29.01)
  6 Morrison, George G        18 DPU                       NT   x2:05.78  
                  25.95       58.21 (32.26)     1:37.69 (39.48)     2:05.78 (28.09)
  7 Phillips, David G         19 Wabash-IN            2:02.53    2:06.56  
                  27.96       59.18 (31.22)     1:38.26 (39.08)     2:06.56 (28.30)
  8 Klossner, Dylan            5 DPU                       NT   x2:06.94  
                  26.49       59.11 (32.62)     1:36.54 (37.43)     2:06.94 (30.40)
  9 Gerhardstein, Chris J     19 DPU                       NT   x2:07.52  
                  26.87       58.27 (31.40)     1:36.80 (38.53)     2:07.52 (30.72)
 10 Strader, Storm K          18 DPU                       NT   x2:08.45  
                  27.50     1:01.00 (33.50)     1:39.27 (38.27)     2:08.45 (29.18)
 11 Curts, Mike M             19 DPU                       NT   x2:08.81  
                  28.40     1:03.79 (35.39)     1:40.53 (36.74)     2:08.81 (28.28)
 12 Barnes, Adam F            19 Wabash-IN                 NT   x2:10.65  
                  28.21     1:01.47 (33.26)     1:40.67 (39.20)     2:10.65 (29.98)
 13 Smith, Tom D              20 DPU                       NT   x2:12.44  
                  30.87     1:07.69 (36.82)     1:42.61 (34.92)     2:12.44 (29.83)
 
Event 32  Men 400 Yard Freestyle Relay
===============================================================================
    School                                               Seed     Finals Points 
===============================================================================
  1 DePauw University  'A'                                 NT    3:10.97   11  
     1) Hooker, Casey A 19              2) Bacinich, Matt S 18            
     3) Montgomery, Johnny R 20         4) Alfonso, Alex I 18             
                  22.95       47.36 (47.36)     1:10.26 (22.90)     1:35.82 (48.46)
        1:58.20 (22.38)     2:23.51 (47.69)     2:45.68 (22.17)     3:10.97 (47.46)
  2 DePauw University  'B'                                 NT    3:18.09    4  
     1) Burgeson, Jack 18               2) Hessburg, Joe D 18             
     3) Haeske, Matt R 18               4) Johnson, Cam M 18              
                  23.88       49.77 (49.77)     1:13.46 (23.69)     1:39.88 (50.11)
        1:56.87 (16.99)     2:28.61 (48.73)     2:51.45 (22.84)     3:18.09 (49.48)
  3 Wabash College-IN  'A'                            3:21.00    3:20.94    2  
     1) Adams, Carter D                 2) Hawkins, Alex N 18             
     3) Beck, Alex P 20                 4) Troyer, Aaron L                
                  24.50       51.63 (51.63)     1:15.38 (23.75)     1:42.07 (50.44)
        2:05.32 (23.25)     2:31.93 (49.86)     2:55.31 (23.38)     3:20.94 (49.01)
  4 DePauw University  'C'                                 NT   x3:25.42  
     1) Spichiger, Robby J 20           2) Harris, Brad J 19              
     3) Hafling, Erich R 18             4) Ercoli, Chris 18               
                  24.25       50.82 (50.82)     1:15.04 (24.22)     1:42.63 (51.81)
        2:07.52 (24.89)     2:35.16 (52.53)     2:58.85 (23.69)     3:25.42 (50.26)
  5 Wabash College-IN  'B'                                 NT    3:39.46  
     1) Chorpenning, Andy R             2) Fouts, Matt D                  
     3) Phillips, David G 19            4) Barnes, Adam F 19              
                  26.20       54.92 (54.92)     1:21.20 (26.28)     1:49.79 (54.87)
        2:15.45 (25.66)     2:45.27 (55.48)     3:10.85 (25.58)     3:39.46 (54.19)
  6 Wabash College-IN  'C'                                 NT   x3:43.14  
     1) Buescher, Paul T 21             2) Nemeth, Mike A                 
     3) Rice, Logan C 20                4) Hardcastle, Tyler J            
                  28.00       58.66 (58.66)     1:24.91 (26.25)     1:55.04 (56.38)
        2:19.26 (24.22)     2:45.72 (50.68)     3:12.82 (27.10)     3:43.14 (57.42)
 

Back