Fox Affiliate Looks at Tigers' Preparations for Saturday's Monon Bell Classic
November 10, 2011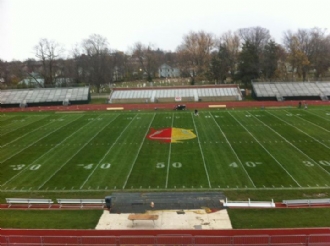 November 10, 2011, Greencastle, Ind. — "47-0 has been on our minds since we left the field last year," Steve Valdiserri, a senior defensive back on the DePauw University football team, tells Indianapolis Fox affiliate WXIN-TV. The Tigers came into last year's Monon Bell Classic with a 9-0 record and playoff berth and were favored to win, but lost 47-0 at Crawfordsville; this year, Wabash College brings the perfect record and postseason spot. (at left: the field at Blackstock Stadium is ready for Saturday's annual rivalry game)
Valdiserri (pictured below) tells reporter Larry Hawley, "We've got stuff in the locker room that reminds us every day of it. Every day we've got emails that says '47-0' stuff so it's a constant reminder, which we like
because we should never forget that."
The report details how the Tigers lost 31 seniors (including 18 starters) to graduation last year, and three quarterbacks to injuries during the course of this season, and faced a schedule with just three home games (including tomorrow's), but have bounced back after a 1-4 start to log three consecutive victories.
The piece, which aired during the station's 10 p.m. newscast, also includes comments from senior offensive tackle Lewis Brown, and senior quarterback Will King.
See video and read about DePauw's preparations for Saturday's 118th Monon Bell Classic at the station's website or on YouTube.
The game is sold out, and a crowd of more than 8,000 will gather for the 1:07 p.m. kickoff. The action can be seen nationally on HDNet, with the high definition telecast beginning at 1 p.m. The network is available in millions of homes, and many fans will again attend telecast parties across the USA which are arranged by DePauw and Wabash alumni.
The contest will mark the 118th gridiron meeting between DePauw and Wabash (the first was in 1890) and the 80th for possession of the Monon Bell (which became the winner's prize in 1932). Wabash leads the all-time series 55-53-9, while DePauw leads in games played for the Monon Bell by a 37-36-6 count.
Complete game day information is available here.
A complete roster of "Monon Memories" -- video highlights of past classics -- can be found here.
Pre-orders and now being accepted for the 2011 Monon Bell Classic DVD, which will include this year's contest and a range of bonus material, including photo galleries and historic clips from past games. Learn more, and place an online order, by clicking here.
Source: WXIN-TV (Fox)/Indianapolis
Back