Celebrating Diversity
November 11, 2011
DePauw celebrates International Education Week Nov. 14-19 with events that feature the benefits of international education and exchange worldwide. DePauw is home to 267 international and exchange students representing 41 countries.
For a detailed schedule of events, please visit the DePauw International Education Week website. All events are open to the public.

Loutfi Jirari, director of international student services, is working with the student coordinators of the event. "International Education Week (IEW) celebrates the benefits of understanding the world around us so we can better communicate and collaborate within the global community," he says.

"This is an opportunity to celebrate diversity on our campus. Events like IEW give the DePauw and Greencastle communities a chance to learn more about different cultures, languages, traditions and customs."


International Education Week is a joint initiative of the United States Departments of State and Education. It's observed in more than 100 countries and celebrates the ways in which international education and exchange opportunities prepare citizens for community building – both in national and international settings.

Shreeya Neupane '12, president of the International Student Association, is coordinating the International Bazaar, the very popular final event of International Education Week. It's a unique opportunity to enjoy international foods and performances that showcase the different countries represented on campus.

The lively performances are by students, and there will be an additional performance by a professional flamenco and belly dancer.

The Bazaar is Saturday, Nov. 19, at 6 p.m. in the Memorial Student Union Building ballroom. Tickets are $3 and will be sold at the event, which is open to the public. All proceeds go to St. Jude Children's Research Hospital.

"So many people have committed to sharing their international experiences that I hope everyone will take advantage of this learning opportunity," Neupane says. "We have a very large group of international students who are enthusiastic about making the International Bazaar even more successful than it was last year. I'm excited about it and hope a lot of people will attend."

Seniors Xinxin Liu and Anthony E. Navarrete have been working together during the last several weeks to coordinate the week's activities. "My hope is that this week will provide an opportunity for the DePauw community to come together and share in and acknowledge the importance of international experiential education," Navarrete says.

The week kicks off with the annual photo exhibit on Monday, Nov. 14, at 4 p.m. in the Memorial Student Union Building lobby. The event is free and open to the public. Light refreshments will be provided.

The photo submissions are from students who have participated in off-campus study around the world. "We hope all students will get involved and vote for the best photos," Liu says. "It's also a place for students to share their experiences overseas and for those who have never been abroad to learn what to expect."

A panel discussion that will address United States-Cuba relations is scheduled on Thursday, Nov. 17, at 4:30 p.m. in the Memorial Student Union Building, room 231. Dr. Deulofeu from Havana Technical University in Cuba will speak about the current realities of the Cuban people. He will also address the possibilities of strengthening United States-Cuba relations through community and academic ties. The event is sponsored by the Committee for Latino Concerns and The Janet Prindle Institute for Ethics.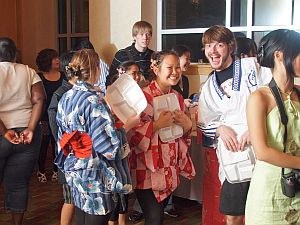 There will be different foods in the Hub, depending on the country highlighted that day, and they will include Asian, Mexican, Indian, North American and Italian dishes.

Liu explains, "Most of the events are sponsored by different student organizations, so we see this as a time when all join together and help celebrate IEW. I hope the week is a bridge for students to know more about the world, be more aware of cultural diversity, and provide an opportunity to be involved in discussing issues surrounding community and humanity," Liu says.

Beyond International Education Week, the following are ongoing programs that enable students to get involved in international life at DePauw.

Cultural Connections helps DePauw students build a deeper understanding of the value of worldwide education, development and communication. Through Cultural Connections, students participate in a variety of events, ranging from individual presentations to displaying exhibits for multicultural and international festivals at schools throughout Putnam County. Contact Xinxin Liu '12 for more information.

Conversation Café takes place at the Dorothy Brown Cultural Center every Friday from 4:15-6:15 p.m. Student-run and highly engaging, Conversation Café aims to bring domestic and international students together to discuss relevant issues. Conversation Café is a great place to spark conversation that will lead to discussions in the greater DePauw and Greencastle communities. Contact Christy-Ann N. Nartey '12 for more information.


Back