Bring it On! 118th Monon Bell Classic Kicks Off at 1:07 Today
November 12, 2011
Also: Monon Bell Page; Presidents' Joint Letter; HDNet Telecast Information; See 'Monon Memories'; Order Monon Bell Classic DVDs;

[Download Video: "Ballad of the Monon Bell - 2007 Version" - 10,419kb]

[Download Audio: "Ballad of the Monon Bell - Stereo" - 2514kb]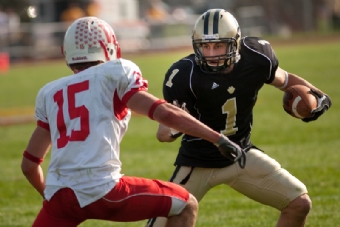 November 12, 2011, Greencastle, Ind. — "The undefeated Wabash football team doesn't need to be reminded it shouldn't take long-time rival DePauw for granted in the 118th Monon Bell Classic this afternoon," writes Mike Wells in this morning's Indianapolis Star. "All the Little Giants have to do is go back to last year if they need a refresher."
When the 117th edition of the rivalry was played last November, it was the Tigers with the 9-0 record and who endured a shocking 47-0 setback. "At 1 p.m. today, it's the Little Giants who are 9-0 and ranked No. 9 in the NCAA Division III polls as they head to Greencastle. That may not be a good thing. The past three teams entering the game with a perfect record have lost."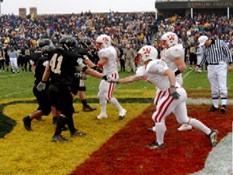 "Both teams are going to give the other the best they've got," DePauw defensive tackle Graham Wilkerson tells the newspaper. "I don't think records mean much in this game. Wabash is the best team we will see this season."
Wells notes, "The Tigers are 4-4 and treating today as a playoff game as they try to salvage a winning season as well as bragging rights over the Little Giants for the next year. The Tigers have bounced back from a four-game losing streak earlier in the season to win their past three games. DePauw hasn't finished with a losing record since 1995, when it was 3-7. Wabash is on a two-game winning streak over DePauw."
"This is a huge game for us," Wells adds. "Coach (Robby Long) has been telling us that we always have winning seasons at DePauw. Not only is that riding on the line, but there's so much emotion with it being the Monon Bell game, especially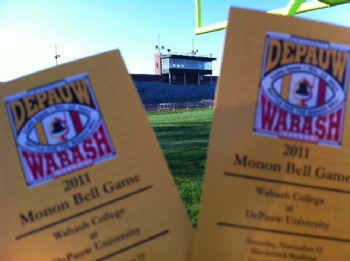 with the way it turned out last year. Everybody is gearing up to get this win."

[Download Video: "2007 Monon Memory" - 7808kb]
Access the full story -- headlined "Perfection's not allowed: Can Wabash avoid being 4th straight unbeaten team to lose?" -- at IndyStar.com.
Tickets for the game are sold out, and a crowd of more than 8,000 will gather for the 1:07 p.m. kickoff. The action can be seen nationally on HDNet, with the high definition telecast beginning at 1 p.m. The network is available in millions of homes, and many fans will again attend telecast parties across the USA, which are arranged by DePauw and Wabash alumni.
DePauw University and Wabash College will play today for the 80th time for possession of the Monon Bell (which became the winner's prize in 1932). Wabash leads the all-time series 55-53-9, while DePauw leads in games played for the Monon Bell by a 37-36-6 count.

[Download Video: "1955 Monon Memory" - 6739kb]
Complete game day information is available here.
A complete roster of "Monon Memories" -- video highlights of past classics -- can be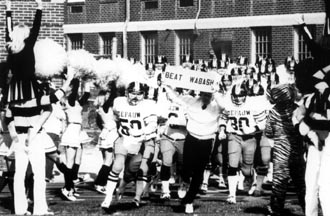 found here.

[Download Video: "1900 Monon Memory" - 4010kb]
Pre-orders and now being accepted for the 2011 Monon Bell Classic DVD, which will include this year's contest and a range of bonus material, including photo galleries and historic clips from past games. Learn more, and place an online order, by clicking here. Also available are the DVDs of the 1977, 1994 and 2000-10 Monon Bell Classics (supplies of past games are extremely limited; the 2008 package is a two-disc set including all 115 "Monon Memories" produced to that date).
Voted Indiana's "best sports rivalry" by visitors to ESPN.com, the Monon Bell Classic has been televised by ABC and ESPN2 and has been the subject of features in Sports Illustrated and USA Today and on Charles Kuralt's CBS Sunday Morning. The annual DePauw-Wabash clash is also detailed in Rites of Autumn: The Story of College Football, a book by Richard Whittingham.
Back