National Bell Telecast Spotlights "Legacy of DePauw's Prominence"
November 12, 2011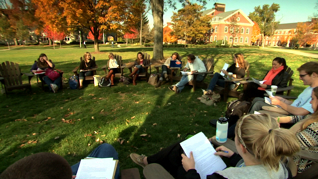 November 12, 2011, Greencastle, Ind. — "As the ever-evolving world continues to demand a well-rounded skill set, one school in Greencastle, Indiana, has been arming students with the correct tools for 175 years," began a piece that aired during halftime of today's national telecast of the 118th Monon Bell Classic on HDNet.
According to DePauw President Brian W. Casey, "The focus in a liberal arts education is always about critical skills -- can you think through complex problems, can you handle complex situations, can you write, can you communicate, can you think on your feet? So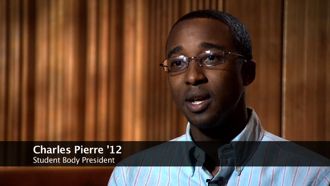 it's not a short term type of education, it's a long term perspective that prepares students for a world that we can barely imagine right now."
"I equate our education to having a good tool set," Charles Pierre '12, student body president, says. "You're equipped with different tools that you can go master the world (with) and build your own destiny, so to speak. Instead of having that great hammer -- you can build just one thing with that hammer -- you can build anything you want."
The piece notes the 175-year-long "legacy of DePauw's prominence," pointing to alumni such as Percy Julian '20, Barbara Kingsolver '77, Brad Stevens '99, Vernon Jordan '57, Dan Quayle '69, and Eli Lilly, a member of the University's Class of 1856.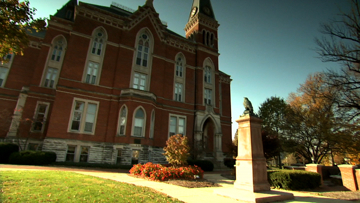 Also interviewed is Mary Dixon, professor of economics and management.
See the three-minute video on YouTube.
During the game, a national TV audience also learned about a project that brings together the disciplines of science and art (featuring professors Dan Gurnon and Jacob Stanley; see it here), and they were led on a tour of the nation's sixth-oldest school of music by Mark McCoy, the new dean of the DePauw University School of Music (view it on YouTube).
This marked the seventh year (and sixth in a row) that HDNet has televised the Monon Bell Classic.
Back