Retro-Themed TV Shows Let Viewers "Relocate from Reality": Prof. Jeff McCall '76
November 13, 2011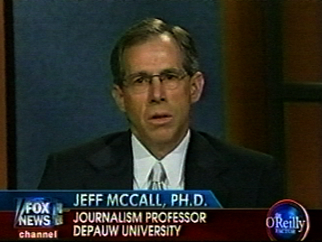 November 13, 2011, Greencastle, Ind. — "There is a tendency among television storytellers to look to the past when current times are tough," Jeff McCall, professor of communication at DePauw University, tells the UK's Guardian. He adds, "Audiences need to be removed from contemporary settings to provide them a way to, in a sense, relocate from reality."
The story by Paul Harris notes that in these difficult economic times, "There is evidence of a renewed longing for the certainties of the 1950s and 1960s when -- in the popular mind at least -- good solid jobs were plentiful, U.S. factories made products exported around the world and the suburban dream was one of white-picket fences, not foreclosure signs. From high-street fashion to retro trends in cocktails to the renewed popularity of facial hair for men there is a cultural longing to look back and ignore hardships. The influence of the hit show Mad Men, set in an early 1960s New York advertising agency, is almost impossible to overstate ... The series' journey into a simpler, more solid 'Golden Age' is not alone. It has been followed by shows like Pan Am, which celebrates and glamorises the life of air stewardesses in the 1960s, when flying was a far cry from the crowded hell that it is nowadays. At the same time,
remakes of classic old TV shows such as Mister Ed, The Man From U.N.C.L.E. and Bewitched are in the works, also harking back to simpler times."
You'll find the complete article at the newspaper's website.
A 1976 graduate of DePauw, Jeffrey M. McCall is frequently called upon by major news outlets to discuss media matters and has been quoted in more than 100 newspapers. Earlier this month, the author of Viewer Discretion Advised: Taking Control of Mass Media Influences took aim at presidential debates in an Indianapolis Star op-ed.
Back