Kevin Armstrong '82 Tapped to Lead Methodist Health Foundation
November 14, 2011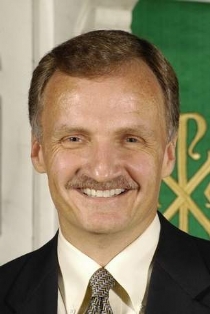 November 14, 2011, Greencastle, Ind. — Kevin Armstrong, a 1982 graduate of DePauw University, was today appointed president of Methodist Health Foundation, the philanthropic arm of Indiana University Health Methodist Hospital. Armstrong, a member of the Foundation's board of directors since 2008, is currently senior pastor at North United Methodist Church in Indianapolis.
"The decision on who best to serve as president revolved around the qualities of leadership, an inherent understanding of relationships and the ability to bring transformational change to an ever-challenging environment," says Otto N. Frenzel, IV, chairman of the board for Methodist Health Foundation. "Kevin possesses all of these qualities, as well as a passion for the hospital and its role as the leader in caring for patients and families in the state. His qualifications outdistanced an impressive list of candidates from around the country."
Inside Indiana Business notes, "Armstrong also has extensive fundraising experience having led multi-million dollar capital campaigns; written successful million dollar+ grants; adjudicated grants for Lilly Endowment and Louisville Institute; worked on research-based projects; and initiated a national public teaching project." (at right: Armstrong speaks with former British Prime Minister Sir Harold Wilson at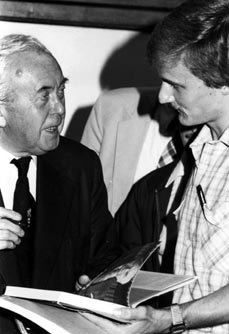 DePauw; September 21, 1981)
Rev. Armstrong states, "It's an honor to be chosen to serve as president of Methodist Health Foundation. I believe this role is a natural extension of my lifelong vocation of encouragement and generosity for the service of an institution I care about very deeply."
Armstrong also serves on the boards of University of Indianapolis, Spirit & Place Festival, Global Interfaith Partnership, and Duke Divinity School, where he also received a degree.
Learn more at Inside Indiana Business.com.
Also available is this previous article.
Back