DePauw Band Presents Concert Sunday at 3 p.m.
November 15, 2011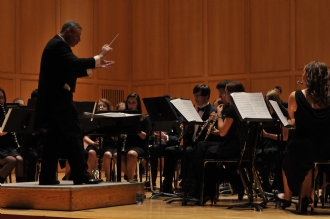 November 15, 2011, Greencastle, Ind. — You're invited to enjoy a performance by the DePauw University Band, this Sunday, November 20, in Kresge Auditorium of the Judson and Joyce Green Center for the Performing Arts. Directed by Craig Paré, the 3 p.m. concert is free and open to the public and will be simulcast on DePauw's student radio station, WGRE (91.5 FM or online via this link).
The concert will include Heart's Music by David Diamond, Lux Aurumque by Eric Whitacre, More Cowbell by Scott McAllister, and Yankee Doodle Fantasie Humoresque by David Wallis Reeves.
"As we try to do for most of our performances, the University Band will present an array of types and styles of music for this concert," according to Professor Paré. "Our works include the beautiful, rich setting of Lux Aurumque, which was originally a choral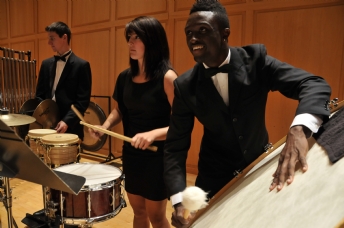 work, arranged by the composer for winds. More Cowbell by Scott McAllister is one movement of a three-movement piece, Popcopy. McAllister's inspiration for this movement is taken from the Saturday Night Live skit featuring Will Ferrell as a fictional cowbell player for the rock group, Blue Oyster Cult. Ferrell's character, Gene Frenkle, fervently plays cowbell on a recording track, annoying the band members but prompting the producer, played by Christopher Walken, to declare: 'Guess what? I've got a fever, and the only prescription . . . is more cowbell!' "
The University Band will also present two works (Miniature Set for Band and Marchisma) by past School of Music director and faculty member, Donald H. White, in celebration of the composer's 90th birthday.
In addition to the University Band, three School of Music student chamber ensembles will also be performing in the concert: the Flute Choir, coached by Anne Reynolds; a clarinet quartet coached by Randy Salman; and a saxophone quartet coached by Scotty Stepp.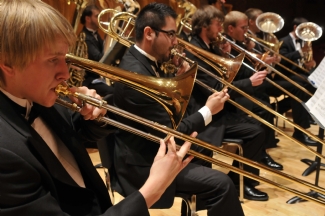 It is requested that, if possible, those attending the performance bring one non-perishable food item for admission. All donations will go directly to the Putnam County Emergency Food Pantry. Requested food items include canned chicken noodle soup, canned fruits, rice, and pork & beans. Monetary donations will also be accepted.
Founded in 1884, the DePauw University School of Music is one of the nation's oldest private institutions for post-secondary music instruction and the longest-running in Indiana. Learn more here.
Back