Media Cover President Bill Clinton's DePauw Speech
November 18, 2011
Also: "We Need Everybody" to Build a Better World, President Bill Clinton Tells 5,000 at Ubben Lecture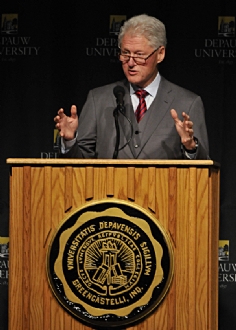 November 18, 2011, Greencastle, Ind. — "Bill Clinton says the 21st century is 'full of promise' despite problems ranging from authoritarian regimes to climate change," begins an Associated Press report on today's Ubben Lecture. "The former president spoke to thousands of college students Friday as part of a lecture series at DePauw University in Greencastle," it continues.
Read more, and access photos, at the website of Indianapolis NBC affiliate WTHR. Other reports can be found at WRTV and WISH. Also accessible are reports seen on today's noon newscasts and late news coverage.
The Indianapolis Star reports, "It's not every day a former president comes to town, especially to a Midwest town with a population hovering around 10,000. But about 5,000 residents of Greencastle and the surrounding area converged on DePauw University on Friday to see President Bill Clinton give the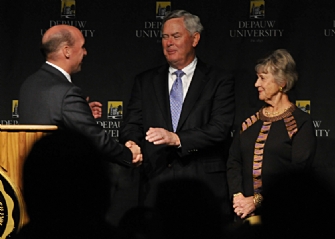 keynote speech at the 25th anniversary of the Ubben Lecture Series." Shari Held calls the event "the most high-profile speaker that DePauw has ever had -- and they've had plenty." (at right: DePauw President Brian Casey with 1958 graduates and series benefactors Tim and Sharon Ubben at today's event)
Access the full piece and accompanying video here.
Also available are stories in Greencastle's Banner-Graphic and another AP summary.
To view a complete roster of Ubben Lecturers -- which includes links to video clips and news stories -- click here.
Back