DePauw Men Open 2011-12 Season with Win over Marygrove
November 18, 2011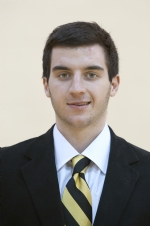 November 18, 2011, Cleveland, Ohio — Michael Wilkison (pictured) posted career highs of 28 points and nine rebounds to lead DePauw to a 98-67 win over Marygrove (2-2) in the opening game of the Stephanie Tubbs Jones Memorial Tournament. The Tigers face the host Spartans who beat Elmira, 70-56. Tipoff of Saturday's championship game is scheduled for 7 p.m.
DePauw jumped out to a 14-2 lead in the opening 5:26 of the contest, but Marygrove trimmed that to as few as one point at 37-36 late in the half. The Tigers took a 42-36 lead into the intermission.
The Tigers' lead was still in single digits at 55-46 before DePauw went on a 21-6 run to put the game away.
DePauw's Wilkison hit 7-of-8 three-point field goals as the Tigers knocked down 15-of-28 as a team. Camron Burns added a career-best 18, followed by Sean Haseley with 17 points, including 16 in the second half, and Tommy Weakley with 12. Haseley grabbed a game-high nine rebounds in the win.
Omar Thomas paced Marygrove with 26 points followed by Darryll Dixon with 21 and Marcus Hopkins with 11. Thomas had six rebounds.
The Tigers shot 54 percent for the game including nearly 68 percent in the second half, while Marygrove hit 42 percent from the floor. DePauw also held a 38-31 margin on the boards.
Back