#9 DePauw Women Open Season with Win over Albion
November 18, 2011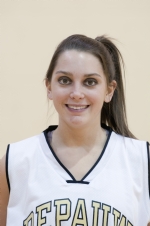 November 18, 2011, Franklin, Ind. — DePauw, ranked ninth in the WBCA preseason coaches' poll and 10th by D3hoops.com, opened the 2011-12 women's basketball season with a 59-48 win over Albion (0-2) at the Franklin College Tipoff Tournament.
The Tigers face Franklin at 8 p.m. on Saturday after the Grizzlies topped North Park, 57-48, in the night's other game.
DePauw led much of the first half, but an 8-0 run gave Albion its first and only lead of the game at 17-15 with 6:13 left in the first half.
Savannah Trees knocked down a three and Ali Ross (pictured) scored a layup before Lauren Abendroth hit a three and Alex Gasaway scored a bucket to cap a 10-0 run and give DePauw a 25-17 lead. The Tigers took a 25-21 advantage into the break.
Albion pulled within three points at 41-38 with 7:50 left after Tanner Johnson hit a three. Gasaway hit a three and a jumper to end the run. The lead was still six with less than a minute left, but Ross nailed a three and the Tigers hit 3-of-4 from the charity stripe.
Ross led the Tigers with 15 points followed by Katie Aldrich with 12 and Gasaway with 11. Walker and Gasaway each grabbed six rebounds with Kate Walker and Ross each dishing out four assists.
Patty Rewa paced Albion with 16 points and eight boards with Nicole Dennis chipping in 1 points and a game-high five assists.
DePauw shot 36.2 percent from the floor to Albion's 42.6 percent, but the Tigers hit five more three-pointers, committed five few turnovers and held a 36-32 rebounding advantage.
Back