DePauw Moves to 2-0 and Claims Tourney Title
November 19, 2011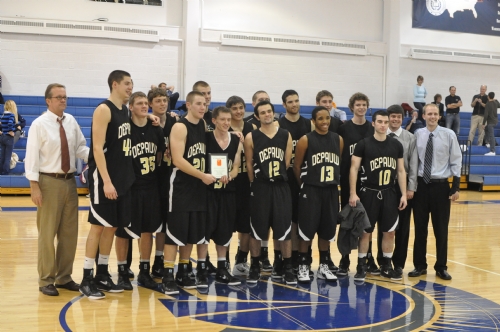 November 19, 2011, Cleveland, Ohio — Four DePauw starters scored in double figures as the Tigers defeated host Case Western Reserve by a 76-59 score and captured the Stephanie Tubbs Jones Memorial Tournament championship.
DePauw never trailed in the game and built a 10-point lead midway through the first half. That lead reached as many as 17 points later in the half as the Tigers scored 10 straight. DePauw led at the break, 41-26.
Case Western got no closer than 10 points in the second half and led by as many as 19 late in the contest.
Sean Haseley paced the Tigers with 18 points and added eight rebounds, while Barry Flynn added career highs of 17 points and 10. Tommy Weakley and Michael Wilkison added 12 and 11 points, respectively.
Austin Fowler paced Case Western with 16 points while Tom Summers, David Thompson and Dane McLoughlin each scored 10. Summers added nine rebounds and Ken Gibbons totaled five assists.
DePauw shot 50.0 percent from the floor including 8-of-18 from three-point range, while the Spartans connected on 39.7 percent from the floor but just 4-of-16 from the line. The Tigers outscored Case Western from the line 20-9. The Spartans held a 33-31 rebounding advantage, but DePauw totaled just seven turnovers.
Wilkison was named the tournament most valuable player and was joined on the all-tournament team by Haseley.
DePauw returns to action on November 26-27 when it hosts the Mike Rokicki Community Versus Cancer Challenge.
Back