DePauw Percussion Ensemble Performs Thursday Night
November 26, 2011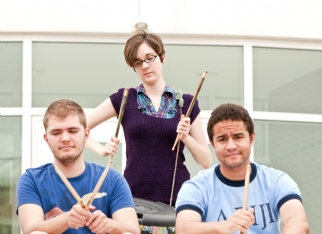 November 26, 2011, Greencastle, Ind. — On Thursday, December 1, the DePauw Percussion Ensemble –- under the direction of Amy Lynn Barber –- will present its Fall 2011 concert in Kresge Auditorium of the Judson and Joyce Green Center for the Performing Arts. Featuring a program of music by American composers, the event begins at 7:30 p.m. and is free and open to the public.
Pianist May Phang, associate professor of music, will be the guest soloist in Armando Bayolo's A Kind of Standoff. Also featured will be John Cage's Third Construction for Percussion, one of his most famous works and a classic of the percussion repertoire, along with works by Steve Reich and Paul Creston.
The program will also include jazz standards by Billy Strayhorn, Charlie Parker, and Pat Metheny, ragtime xylophone music, and the ensemble's signature bucket drumming.
"We have a wonderful group of talented percussionists this year, and this is a very ambitious and challenging program which makes great demands on the players in many different musical styles," explains Professor Barber. "It's also a broad overview of American musical styles from the 20th and early 21st centuries."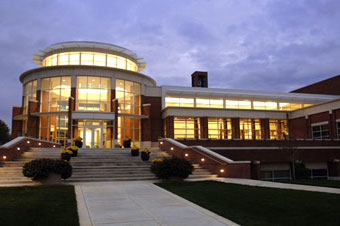 The percussion studio, and especially the Percussion Ensemble, is very active performing on- and off-campus. Including events such as the recent Percussion@Peeler, these students play a wide range of musical styles, from ragtime to the newest contemporary works. Additionally, the Percussion Ensemble is preparing for a tour of China during Winter Term 2012.
Founded in 1884, the DePauw University School of Music is one of the nation's oldest private institutions for post-secondary music instruction and the longest-running in Indiana. Learn more here.
Back