Charity Founded by Three Alumni Featured in USA Today
November 29, 2011
November 29, 2011, Greencastle, Ind. — A USA Today story examines how "people are forming non-profit organizations, charities and foundations to help their neighbors and compensate for government budget cuts." Judy Keen reports how individuals across America are stepping up to meet needs in these difficult times. "The same sort of excitement is in Matt Newill's voice as he describes True Hero Ties, which he created with Johnny Buchta and Ryan Tinker, fellow recent graduates of DePauw University in Greencastle, Ind."
Keen notes, "Half the proceeds from sales of the ties on their website, trueheroties.com, go to veterans organizations that buyers select, including the Wounded Warrior Project, the USO and Homes For Our Troops. All three founders' families include veterans, and Newill says they were inspired by the stories of men and women returning from service in Iraq and Afghanistan. They hope to find customers who share their feelings of pride and gratitude toward the military. The process, Newill says, has been 'awesome.' "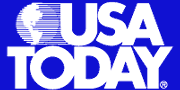 Read more at USA Today's website.
Buchta and Newill are 2008 DePauw graduates, while Tinker received his degree in 2009. All were Management Fellows.
On November 11, Ryan Tinker visited Cincinnati Fox affiliate WXIX-TV to discuss the new charity. You'll find further details in this previous story.
Back