Whither We Will Walk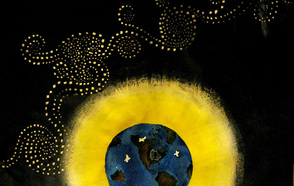 November 30, 2011
"What is it that makes it so hard sometimes to determine whither we will walk? [...] No doubt, we find it difficult to choose our direction, because it does not yet exist distinctly in our idea."
– Henry David Thoreau, Walking
Fall semester is the start of a new life for college freshmen. During the next four years, they will meet best friends and beloved mentors as they search for a creative spark that will light the path ahead. These people and ideas exists somewhere, but where? Assistant Professor of Art Barbara L. Timm is pointing her students in the right direction, even when there are many directions to take.
At first glance, Timm's first-year seminar, Redefining Landscape, is an outdoor studio art course. Her students keep journals of sketches and notes inspired by their trips through the DePauw Nature Park, and they work together on group projects, such as building cairns from rocks at the bottom of the old limestone quarry.
But nature inspires different people in different ways. The course borrows its guest lecturers from departments across the curriculum, and for each art student enrolled in the class, a budding scientist or writer follows in the footsteps of American philosopher Henry David Thoreau. In fact, Thoreau's essay Walking is one of the class's first assignments – as is its recommendation.
"We do a lot of walking," Timm says. "I use it as a metaphor to explore different paths of knowledge. The aim is to let investigation draw students into different areas of thought, to nurture inquisitiveness and to enjoy the journey. I want to teach them to be active learners, not passive learners."
Timm began painting landscapes from the Nature Park before it was such a thing. For decades, the abandoned quarry sat untouched except by those like her who jumped the surrounding fence.
"As an artist, it's essential to not be on one side of a window," Timm says. "You need to understand connections between everything you're seeing. Otherwise, you end up creating nothing more than an image."
Typically, Timm would be the only person in her class to remember the land before DePauw purchased it and opened it to the public in 2004, but in a stroke of fate, she isn't alone this year.
"It was kind of a wasteland," says freshman Shae A. Mahoney-Sutherland, whose grandfather was one of the last employees at the quarry when it closed in the 1970s. Without machinery grinding away at the rock, the surrounding nature has since crept back into the crater that was left behind.
"It's surreal – almost otherworldly – how all of what's there now could have grown out of a quarry," she says.
DePauw's first-year seminars give freshmen an idea of what to expect at a small liberal arts college. With titles such as Baseball as American History and Mars in Science and Literature, interests that were once distinctly "jock" or "nerd" are not so easily defined. Here, there are no such walls to separate ideas, and few other courses illustrate that as clearly as Timm's.
"I went to a small high school where there wasn't a huge variety of courses to take," says Mahoney-Sutherland, who plans to study environmental geoscience. "So much about this class is interdisciplinary that I thought it would give me what I hope to get out of a liberal arts education."
While the course gives students an opportunity to get comfortable with DePauw's academics, they also have a chance to get out
and explore their new home away from home.
"I think the class helps to ease students into life at DePauw by connecting them with the surrounding environment," Timm says. "Some of them grew up in the city, and this is their first time in a place like the Nature Park."
Freshman Zhiyan Jiang measures her time in the United States from the day she traveled from Shenzhen, China (population, 10 million) to Greencastle (population, 10 thousand) to attend DePauw.
"I grew up in a big, modern city," Jiang says. "If you wanted to go into nature, there wasn't anywhere to go. This is a very different place for me."
Every walk through the park, she says, introduces her to a new animal or tree. Instead of seeing a picture or reading about it in a book, she alone gets the satisfaction of the discovery.
Early in the semester, the class took a night walk through the park to see how only a few hours can change a place. Along the way, Jiang borrowed a friend's cell phone to help map out the stars.
There are only so many stars in a typical textbook star map: those that make up the major constellations and a few scattered ones of note. Looking up from the woods on a clear fall night, Jiang could see all the constellations that might have been.
"I never knew how stars fill up the sky," she says.
Back