An Annual Tradition, 'A Service of Readings and Carols,' Set for Sunday at 5 p.m.
November 30, 2011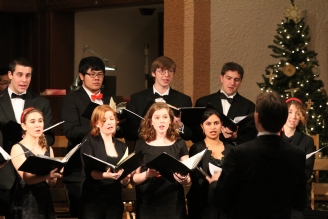 November 30, 2011, Greencastle, Ind. — The DePauw University Chorus and DePauw Chamber Singers will present "Peace to You: A Service of Readings and Carols" this Sunday, December 4. The holiday concert begins at 5 p.m. at Gobin Memorial United Methodist Church, located on the DePauw campus. The program is presented free of admission charge and the campus and community are invited to attend.
This year's concert, led by director Gregory Ristow, will feature a variety of musical works spanning a wide historical range -- from medieval chant to traditional tunes to 20th century work -- as well as readings from well-known figures including the Dalai Lama, Robert Frost and Martin Luther King Jr.
As part of the evening's festivities, DePauw Bonner Scholars and other volunteers will place and light luminarias around the campus, giving the grounds a warm holiday glow,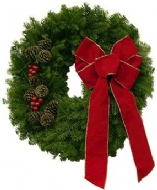 which will be seen by Sunday's audience as it leaves the performance. The Bonner Scholars will also be providing a hot chocolate reception following the performance.
At 6:30 Sunday night, the Greencastle Civic League will offer its 28th annual "Lights of Love" ceremony in the Great Hall of DePauw's Green Center for the Performing Arts (read more here). All of the events are being presented as a part of the "Making Greencastle Brighter" community event.
Founded in 1884, the DePauw University School of Music is one of the nation's oldest private institutions for post-secondary music instruction and the longest-running in Indiana. Learn more here.
Back