Weakley's Two Threes in Final Minute Rallies DePauw to First NCAC Win
December 3, 2011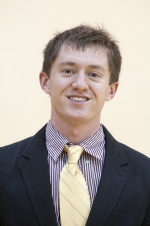 December 3, 2011, Gambier, Ohio — DePauw's Tommy Weakley (pictured) knocked down a pair of three-pointers in the final 52 seconds as the Tigers rallied from as much as a nine-point deficit and claimed a 60-59 North Coast Athletic Conference win at Kenyon.
The Tigers improved to 5-1 overall and 1-0 in the first NCAC game in program history, while Kenyon dropped to 2-4 overall and 0-2 in conference play.
DePauw led by as many as five in the first half, but Kenyon took a 34-31 lead into the break. The Lords quickly pushed the margin to eight with a 5-0 run in the opening 1:30 of the second half. Kenyon's lead reached as many as nine with the last coming at 53-44 with 9:28 left.
Sean Hasley's layup and Barry Flynn's two free throws trimmed the lead to five. The margin was still seven at 55-48 before Haseley scored a bucket and Weakley hit a three with 5:27 remaining to close the gap to 55-53. Haseley added another free throw to bring the Tigers to within one.
Kenyon's Ikenna Nwadibia made a pair of free throws with 1:07 remaining to push Kenyon's lead to three, but Weakley nailed a three with 52 seconds left to knot the score at 57-57.
Luke Shmuger's two free throws with 26 seconds remaining gave Kenyon a 59-57 advantage before Weakley provided DePauw its only lead of the second half with a three-pointer with just 15.8 seconds left.

Following a DePauw timeout, Kenyon's Brian Lebowitz missed a jumper with less than two seconds left and the Tigers grabbed the rebound for the win.
Flynn led the Tigers with 14 points and 10 rebounds, while Haseley added 13 points and Weakley 11. Flynn also dished out three assists and Haseley had three steals in the win.
Julian Pavlin paced Kenyon with 15 points, while Brian Lebowitz added 14 and Nwadibia chipped in 12 with a team-high nine rebounds.
DePauw shot 37.5 percent from the floor to Kenyon's 44.0 percent, but the Tigers hit seven three-pointers to the Lords' four and held a 38-29 edge on the boards.
The Tigers return to action on Monday, December 5, when they host Indiana-East at 7:30 p.m.

Back