Three Student Journalists Honored in HSPA Foundation's 'Better Newspaper Contest'
December 5, 2011
December 5, 2011, Greencastle, Ind. — Three student journalists at DePauw University were among the winners at this weekend's Hoosier State Press Association (HSPA) Foundation Better Newspaper Contest. The 2011 winners, who were honored for their work for The DePauw, were announced Saturday in Indianapolis. They competed against all Indiana colleges and universities in five categories.
Christine DiGangi, a 2011 DePauw graduate, was the second place winner in the college division's "news" category. She is now serving as a copy editor the New York Times' news service.
Dana Ferguson, now a sophomore, received the second place award in the "features" division. She is the current news editor at The DePauw.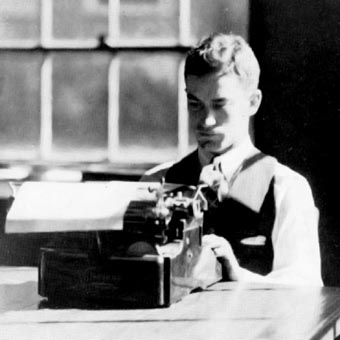 Junior Michael Appelgate received a second-place award in the "sports" category. He is currently the sports and multimedia editor for the student paper.
The Hoosier State Press Association, founded in 1933, is a trade association representing 175 daily and weekly paid-circulation newspapers in Indiana. HSPA provides legal information, training and other services to its members.
A completely independent, student staffed and managed not-for-profit organization, The DePauw was founded in 1852 as Asbury Notes, reflecting the name of the University, then known as Indiana Asbury University. The oldest college newspaper in Indiana, The DePauw is published most Tuesdays and Fridays of the school year. (photo: a student stafffer works on the newspaper circa 1936)
Back