Look for Drew Powell '98 on TNT's Leverage Next Sunday
December 11, 2011
December 11, 2011, Greencastle, Ind. — Drew Powell, a 1998 graduate of DePauw University, will reprise his role as "Jack Hurley" in the December 18 episode of the TNT series Leverage, which stars Academy Award-winner Timothy Hutton (Hutton and Powell are seen in the photo below). Powell first appeared in the role in a program that aired in February 2009.
An English (literature) major and Media Fellow at DePauw, Powell's resume includes a role in the recent big screen remake of Straw Dogs. He's also made appearances in Grey's Anatomy, Malcolm in the Middle, CSI, Ponderosa, The Office, 1408, House, Psych, Memphis Beat and ER.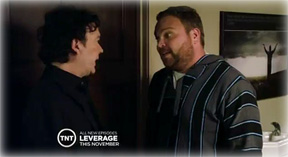 Powell also recently performed in The Pee Wee Herman Show on Broadway and will be seen in an upcoming Kurt Russell film, Touchback.
Drew Powell was featured in the Indianapolis Star in March.
Back