Former VP Dan Quayle '69 Weighs In on Race for GOP Presidential Nomination
December 8, 2011
December 8, 2011, Greencastle, Ind. — "Former Vice President Quayle said Thursday that he believes Mitt Romney would make a 'better leader' as president than rival candidate Newt Gingrich," reports The Hill. The article summarizes an appearance by Quayle, America's 44th Vice President and 1969 graduate of DePauw University, on NBC's Today.
"I know them both," Quayle told the morning program, adding, "It comes down to one thing: leadership. Mitt Romney would be a much better leader. We need a strong leader today."
Geneva Sands-Sadowitz writes, "The former vice president announced his endorsement of Romney at a press event in Arizona Tuesday, where he praised the former Massachusetts governor's conservative values."
Read more, and access video of Quayle's TV appearance, at The Hill's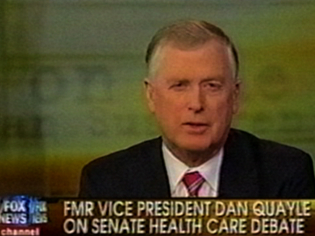 website.
Dan Quayle is now chairman of Cerberus Global Investments. A member of DePauw's Athletic Hall of Fame, Quayle captained the Tiger golf team and was a political science major. On October 26, 1990, the vice president was awarded his alma mater's McNaughton Medal for Public Service. A video montage of that visit, which included a speech in a jam-packed Neal Fieldhouse, can be seen here:

[Download Video: "VP Dan Quayle '69 at DePauw" - 14,947kb].
On May 22, 1982, as a United States Senator, Quayle provided the commencement address at DePauw.
Source: The Hill
Back