"Very Sharp Knife" of Interviewer Bret Baier '92 Noted in Politico Feature
December 10, 2011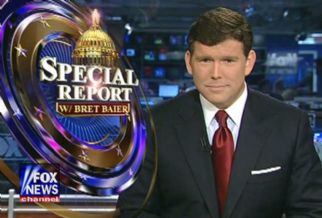 December 10, 2011, Greencastle, Ind. — A Republican consultant tells Politico that Fox News Channel anchor Bret Baier is "a Boy Scout with a very sharp knife." Referring to Baier's interviews with President Obama and Mitt Romney -- which appeared to catch both politicians off-guard, the consultant adds, "He has a very gentle demeanor with a very tough underlying message. He lulls [interviewees] into a false sense of security, which is why he gets such good stuff. He's the most gentle of all the anchors on cable, but he's tougher. People let their guard down."
Baier, a 1992 graduate of DePauw University, is the subject of a profile headlined "Bret Baier: 'A Boy Scout with a very sharp knife' ".
"Baier will be in the spotlight again Dec. 15 when he moderates a Republican presidential debate in Sioux City, Iowa -- his fourth debate this year," writes Mike Allen. "It will be culmination of a remarkable run for Baier, 41, who in January, will mark the third anniversary of his day job -- anchoring Special Report, the signature 6 p.m. show he took over from Brit Hume. The show is consistently in the top three in cable news rankings. In November, it averaged about 2 million viewers each night."
The article later notes, "At DePauw University in Indiana, Baier was an anchor at the campus TV station, graduating in 1992 as a double major in English composition and political science." Allen reports, "As a college intern 21 years ago, Baier got popcorn for Bernie Shaw
during commercial breaks in CNN's Inside Politics.
"I told him the story recently at a charity event in D.C.," Baier says. "And he said, in his deep Bernie Shaw voice, 'Who gets you your popcorn now?' The answer is no one: I don't have popcorn during the show. But I actually reconsidered that after talking to Bernie that night." (image at right shows Baier interviewing Gov. Romney on November 29)
Access the complete article at Politico.com.
In September 2008, Baier returned to his alma mater to participate in "DePauw Discourse 2008: America's Role in the World." The newsman moderated a session with Lee Hamilton '52, the former congressman and co-chair of the Iraq Study Group and 9/11 Commission. An article -- including video and audio clips -- can be accessed here.
Another recent story on Bret Baier can be found by clicking here.
Source: Politico
Back